La version française de cet article est disponible ici.

We are very happy to find you in the columns of our blog, whose vocation is, we remind you, to inform you and to give you all the information (that they are useful, important, pleasant, crisp, disturbing ...) about our dolls and/or teddy bear passions.
We offer you a "journey" within an extraordinary team whose mission is to honor the memory and legacy of one of the greatest doll artists in the world: Mrs. Dianna Effner.
A day marked in black stone

Wednesday, October 14, 2020.
A fateful date in the world of doll lovers around the globe.
The internationally renowned American artist, Mrs. Dianna Effner, leaves us after a long illness at the age of 75. Earthquake and very strong emotions all over the world, which will never be the same again.
We refer you to our article "The Doll's Life of Dianna Effner" in which we traced the life and work of this extraordinary artist, leaving a truly indelible mark on the world of dolls.
But why are we talking about Dianna Effner again today?
This is what we will explain to you ...
Dianna has been dreaming about it for a long time …

Dianna was a renowned artist, producing beautiful dolls of very high quality, including the Little Darlings and dozens of porcelain dolls. Of course, the selling price of these little treasures was in line with the quality and originality of the artist. This made Dianna a little upset.
Indeed, Dianna dreamed of being able to offer to collectors all over the world a line of high-quality dolls, affordable for many of them and whose manufacture would be carried out in factory in a "craft" way but with a very specific know-how.
This is what Rosemarie Müller did by entrusting the production of some of her creations to the German company Schildkröt to mass produce new Müller-Wichtel dolls at lower prices, thus making them accessible to a larger number of doll lovers.
Ambitious and determined, Dianna had not only dreamed about it!
She had even started to work on this project by creating a new model of doll. But the Grim Reaper decided otherwise, and death came before it was even realized.
Her family and friends have done it in her memory !

Dianna's younger sister, KC Eddy, along with her husband Troy, Dianna's 2 daughters -Sara and Lela- and some of the artists from "Effner Team" decided to join forces to ensure that Dianna's vision and dream would be realized.
Continuing this priceless legacy, they have created a brand-new line of 28 cm dolls...
Dianna Effner's Li'L Dreamer was born!
A common achievement by great artists

Before her last trip, Dianna completely sculpted the mold of this new doll and she was very proud of it.
Geri Uribe (Dianna's artist and friend of more than 30 years) painted the face of the prototype, serving as a prototype to the factory in charge of its production under very high control. Because of course, the Effner team is adamant about maintaining the high-quality standards that Dianna has set throughout her career.
The first 3 outfits in the range were designed by Magalie Dawson, one of the artists who has worked with Dianna for many years.
« Li'L Dreamer dolls » … an entire program !

This new line of dolls has found its name quite naturally. Li'L Dreamer dolls ...
Little dreamers of 28 cm (11 "), who were born to play the role of little sisters to the Little Darling. These dolls are a sweet memory of Dianna Effner's youth, during the 50's, reflecting the sense of wonder that accompanied her throughout her life and shared with others.
Dianna Effner on the way to Uncle Hank's wedding in a new car (June 1951)



Because there is no doubt in our minds that Dianna was a true "artist" in every sense of the word, from a very young age.
KC Eddy, our contact at the Dianna Effner Dolls and Dianna's younger sister (she was born when Dianna was 18 years old, just the month she started college), told us that Dianna wanted to be an Artist (with a capital A) from a very young age.
In 1955, at the age of 10, Dianna had already won a contest for young artists organized by a local newspaper. Because it is true that the whole Lid family was very creative. Her father was an architect while her mother was a porcelain painter and watercolorist.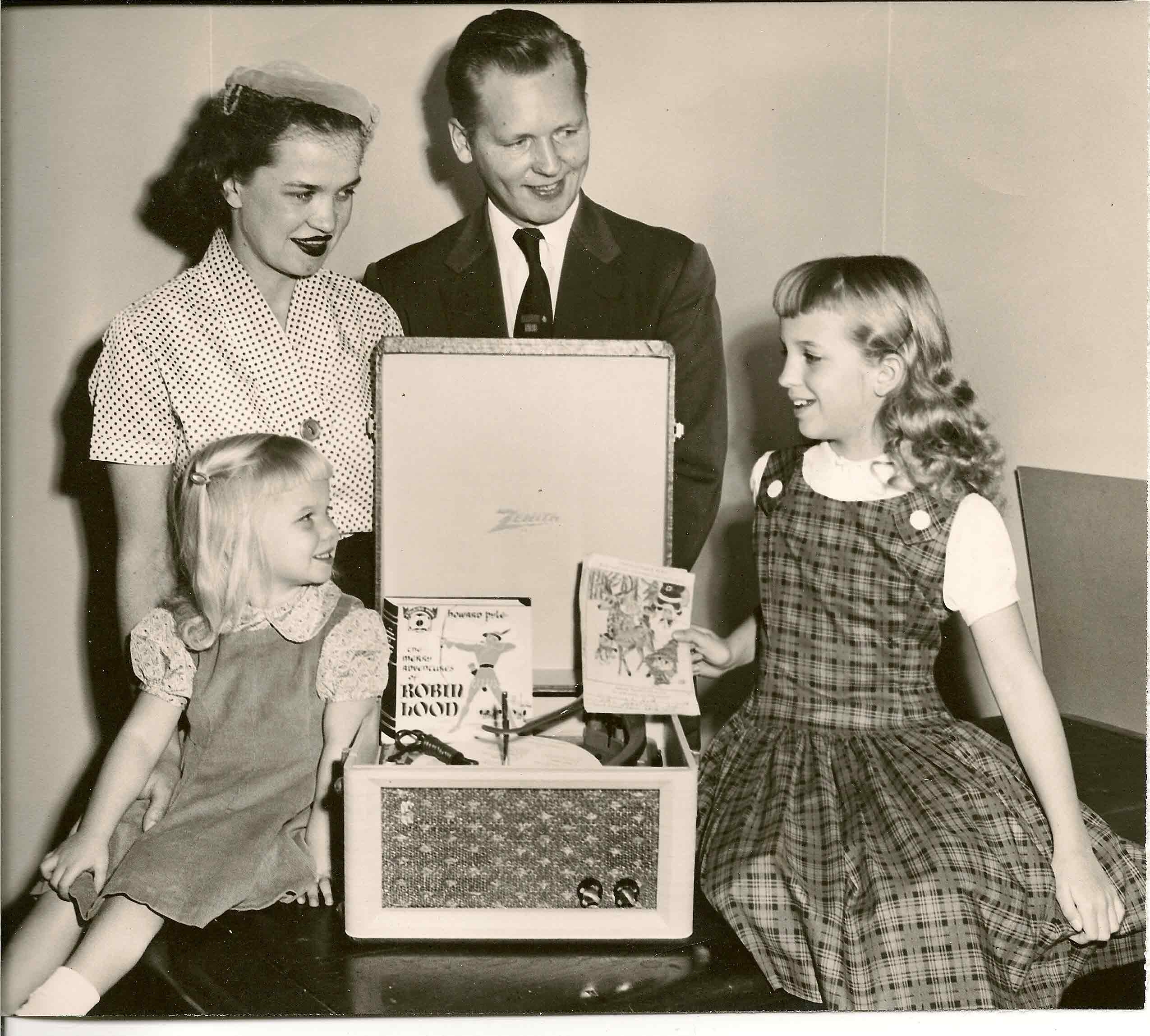 Dianna (winning picture in hand) with her parents (Elva et Bob) and her sister Janice
Colibri – Dianna Effner, a long story of passion

As you know, our store has been very quickly associated with the creations of Dianna Effner.

First of all, by offering you the Little Darling dolls, a great first in Europe. Then, Colibri became the exclusive partner for France of Maru & Friends, Boneka and Fashion Friends dolls, whose molds were imagined and sculpted by this great artist. Finally, we have also distributed for a few years the Heartstring dolls in our nest.

We couldn't imagine for a second not offering you this wonderful line of dolls.

We are therefore happy to announce that the Effner team has chosen Colibri to become the exclusive French distributor of Dianna Effner's Li'L Dreamer products.
Evianna, the first of the dolls

Since family has always played a crucial role in Dianna's personal and professional life, the Effner team knew that the names given to the new dolls had to have a sentimental origin and special meaning.
The 3 young Effner sisters (Dianna on the left, KC Eddy in the middle and Janice on the right)


The first doll to be born is named Evianna, a combination of Elva (Dianna's mother's name) and Dianna. This name also means "first", in reference to Eve, the first woman in the Bible.
As previously explained, the doll measures 28 cm/11" and is delivered in underwear in a beautiful presentation box. The wig is removable and is held in place by a silicone cap, which allows you to change also change the look of the girl according to your desires.

A second doll is planned for the fall of 2022 (Ashlynn) and a third is also announced for the spring of 2023 (Alora). These 2 names mean "dream" and already announce us sweet happiness to come ... but one thing at a time!
The first romantic outfits

To accompany the entrance of the beautiful Evianna into the world of dolls, three romantic outfits have been imagined by the Effner team and their design has been entrusted to Magalie Dawson, artist and friend of Dianna. For our pleasure and especially for Evianna's, her wardrobe will include a summer outfit, a fall/winter outfit and a fancy dress.
It should be noted that the next dolls will also have 3 different outfits, always imagined by Magalie Dawson.
Although the dolls are not limited editions, the outfits are limited to 200 pieces per model.
Discover these first 3 outfits ... the result is simply beautiful!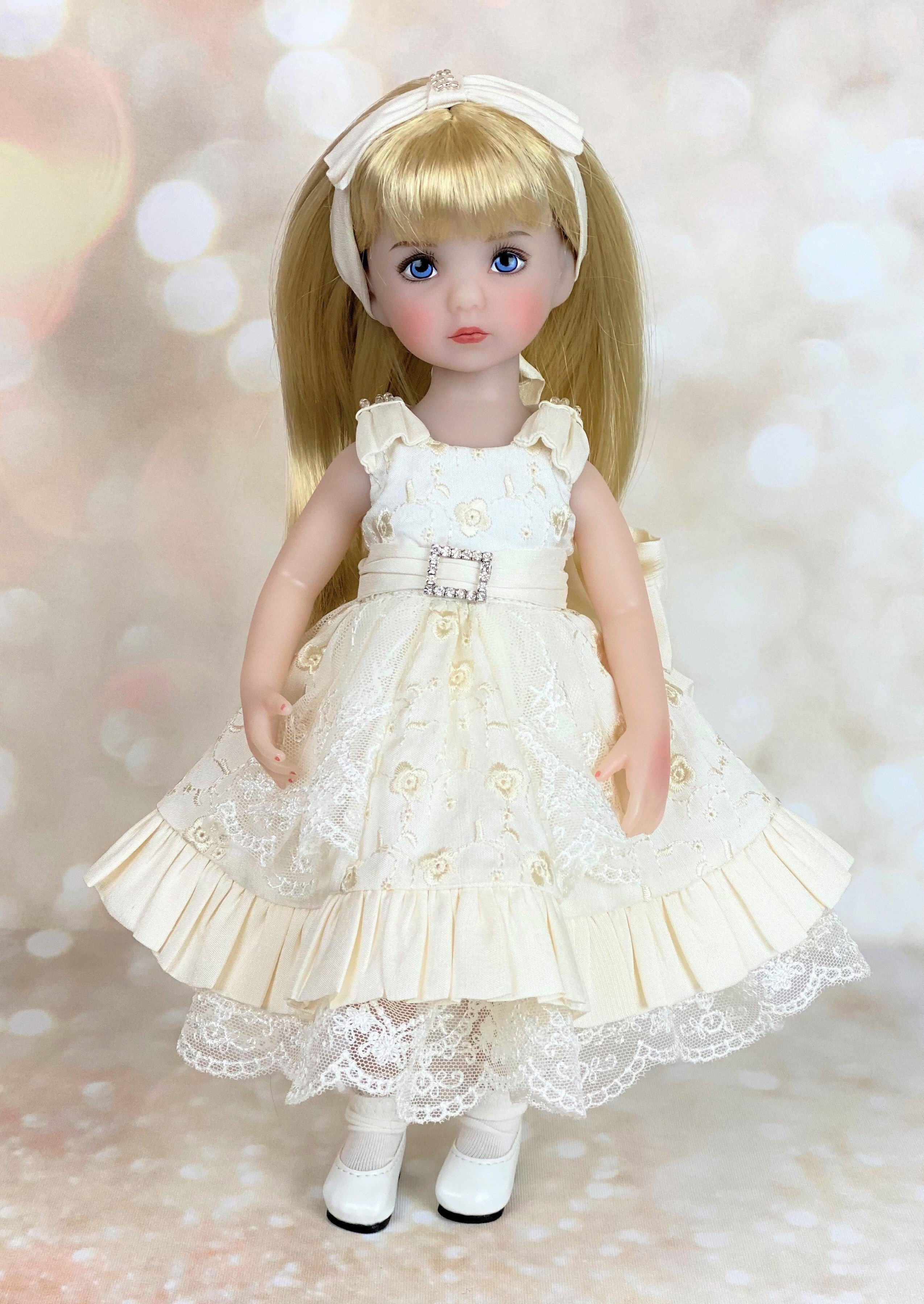 The succession is thus assured …

KC Eddy told us that Dianna was an incredibly modest person. She knew that she had a gift and that it was her duty to share it. She has done this throughout her life by creating beautiful dolls, designing molds for others to make dolls, and teaching others her art.
The Dream Guild, the team of artists behind Dianna, still exists and continues to promote the creative passions of this truly extraordinary artist. Dianna is always present and guides them in all the daily decisions.
And KC Eddy adds, "We always ask ourselves: what would Dianna have done?"
The 3 Effner sisters together (Janice, Dianna and KC Eddy)
 


We hope you will be touched by the grace and beauty of this new line of dolls, just as we were in the nest!
The spirit of Dianna Effner is more present than ever.
We hope that collectors in France, Europe and around the world will give a wonderful welcome to Dianna Effner's Li'L Dreamer, proving that Dianna's dream was indeed premonitory and proving that the talent of this great artist continues to grow and flourish, even after her "great journey".
The Little Darlings now have little sisters, just as Dianna dreamed!
We remain at your disposal for any questions.
Loving dolls forever,
@ soon,
Alexandra and Emmanuel
Special thanks to KC Eddy (who helped us so much in the realization of this article, giving us information and sharing with us great and amazing pictures) and to the Dolls Magazine.