Wednesday October 14th 2020 : the dreadful announcement ...
La version française de cet Hommage à Dianna Effner est disponible ici.

"Dear Friends and Collectors,
It is with great sorrow that my fellow artists and I bring news of the passing of our "fearless leader" Dianna Effner. Gone but never forgotten, she is singing with the angels. RIP Dianna, we will do our very best to continue your great legacy.
Geri Uribe"
It is by these words and by this laconic message posted on social networks that Geri Uribe announces to the world the tragic death of Dianna Effner, who became one of the leading figures in the doll universe.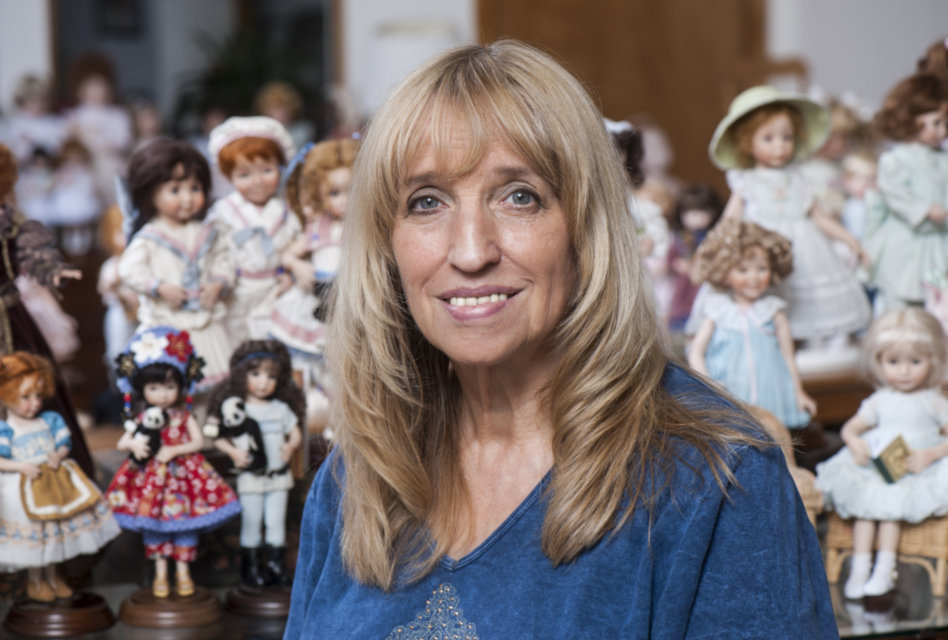 Dianna Effner - Doll Studio - Jamestown (Missouri)


Earthquake by the doll collectors around the world,
Apocalypse among the lovers of Little Darling, Boneka or Maru,
A touching tribute from RubyRed to this extraordinary artist,
And above all ... your numerous messages!

We all have in our houses, in our shop windows or in our collections, a Dianna Effner doll that has marked, that marks but especially now ... that will mark us forever!

So, how could we have imagined not to dedicate an article of our blog to this great artist, in which we will try to retrace the history of her life, her work and her countless creations?

A real detective work then begins for the Colibri team.
After many hours of long and tedious research, dozens of documents read, brought together, studied, we gradually discovered the life of Dianna, such a discreet character.

Oh yes, we were terribly determined to realize a complete tribute to the talent of this very great lady!


A porcelain artist


The great majority of French and European doll lovers associate the name of Diana Effner with Little Darling, Boneka or Maru dolls, summing it up to vinyl dolls. But most of her work has been devoted to porcelain dolls.

Dianna, a world-renowned American artist, has worked in the doll industry for over 40 years. Throughout these decades, she has seen different styles of dolls come and go, but her connection to porcelain has remained strong. Although she worked with vinyl for many years, her reputation as a master and mentor of porcelain will remain undisputed.

As the material of choice for tableware, vases, figurines and - of course - dolls, porcelain is delicate and requires careful handling, but its fragility is deceptive. Porcelain resists and retains its enduring appeal because collectors and artists respond to its luster, texture and appeal.
Tea Time - 18 inches dolls from Dianna Effner - outfits from Magali Dawson


Dianna's love for dolls

Born on July 10, 1945 in the USA, Dianna Lavon LID lives in Park Forest, a suburb of Chicago, Illinois, between an architect father and a stay-at-home mom who loves sewing and crafts.

In fact, Dianna has always had this "doll" spirit in her, playing and designing dolls most of her life. If we want to know when her work really began, we have to go back to the early fifties, when a sensitive and already very artistic 5-year-old girl received her first Toni doll for Christmas. There is no doubt that this formative experience of dressing, undressing, styling and putting the doll to bed played a crucial role in the future career of one of the world's greatest doll artists.
Dianna Effner - Début des Années 50
Dianna grew up surrounded by the love of her parents, also artists, encouraging their daughter to follow her passions. Much used in the English educational world to learn and memorize all types of knowledge in a playful way, her father drew her "Flash Cards", small cards in bristol board on which two complementary elements are written, one on the front, the other on the back.

One of these cards particularly fascinates Dianna! It has the word "DOLL" on one side and the drawing of a rag doll on the other. These images give her a very early interest in art, opening up a multitude of possibilities for her.

Very soon, the young Dianna decides to pursue a career in art.

In 1967, she obtained a Bachelor of Fine Arts degree from Bradley University in Illinois, where she studied painting, sculpture and ceramics. But during the 1960's, when she attended art school, realism was frowned upon and any realistic figurative art was strongly discouraged by her teachers. So Dianna had to learn realistic sculpture by herself after university, thanks to her penchant for inspiration and the understanding of new techniques.

On February 9, 1970, Dianna gave birth to a son, Ivan David, the result of her relationship with David Hobbs.

But "the" encounter that will turn her life upside down comes when she crosses paths with Randall Effner. They were married on September 24, 1971 in Peoria (Illinois). Like Dianna, Randall also graduated from Bradley where he studied traditional Chinese medicine. Author, writer, musician and songwriter, he is a human rights activist in China. From their passionate love are born 2 daughters: Sara and Lela Street.

Jamestown, the artist's place

The Effner family moved to Jamestown in rural Missouri, a small town of just under 400 people.

Dianna, a young stay-at-home mom, took up doll making as a simple "hobby," even buying a kiln so she could learn how to make porcelain dolls.

In 1976, Dianna's small business expanded and she began making porcelain dolls for a small company called Doll-Lain Studios in Milan, Illinois. She also makes Fimo OOAK (One-Of-A-Kind) miniatures.

In the early 80's, she started making her own original limited edition porcelain dolls. At that time, she also designed dolls for "The Collectibles" in Rolla, Missouri.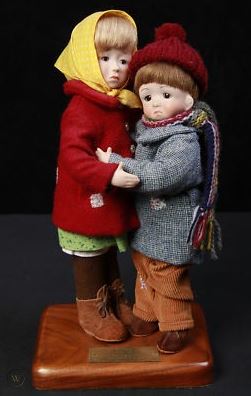 "The Orphans" from Dianna Effner
1981 for Doll-Laine Studios


In the late 80's, she started designing for Ashton Drake Galleries and Ultimate Collection, a company that sells molds to doll makers.

In 1987, Dianna created what would become one of the most popular porcelain dolls of all time: Hilary.
Hilary doll from Dianna Effner


In April 1989, Dianna met Geri Uribe, her colleague and timeless friend, from whom she learned everything.
Dianna will even go so far as to admit that she has taught Geri everything she knows, but that Geri knows more than she does ... because she herself has forgotten a lot. This doll lovers team will produce hundreds of dolls for more than 30 years.
Geri Uribe and Dianna Effner - Doll Studio - Jamestown (Missouri)

In 1990, Dianna was elected a full member of NIADA (National Institute of American Doll Artists).

In 1991, the Effner couple decided to start their own doll mold making business. This family business, named "Expressions", produces molds for porcelain dolls. At that time, there were many studios in the United States and abroad that made porcelain dolls, but Dianna and her husband were the first to offer doll molds designed by artists and intended for amateurs.
Expressions' guiding philosophy has always been to support the doll industry, rather than exploit it. The Effners have always resisted the temptation to flood the market with a large number of hastily sculpted and poorly proportioned dolls. Instead, they have consistently supported the mold industry by producing a relatively small number of high-quality dolls that will remain timeless ten or twenty years later.

Dianna is also very involved in the educational aspects of doll making. She produces many instructional videos and gives doll sculpting and painting seminars all over the world. She strongly believes in teaching and encouraging, hoping to inspire original artists, as well as giving amateurs the opportunity to try their hand at reproducing and appreciating the work of porcelain. Dianna's philosophy has been lived through her art all her life: "Before you can hope to receive, you must first give... and give! »
Porcelain dolls from Dianna Effner

One of Dianna's great projects and especially one of her greatest achievements is the creation of the Doll Dreamers Guild, paving the way for future artists. This guild (whose motto is "In Pursuit of Excellence") holds a special place in the heart of Dianna who believes in porcelain, professionalism and self-expression. Soon, many professional porcelain doll artists join this guild and become teachers of doll making.

As a result, Dianna launched a new project called DEEP, an acronym for Dianna Effner Eye Painting. This is a training course set up by Dianna to teach doll professionals the revolutionary technique of doll eye painting, developed in close collaboration with Lana Dobbs.

The faithful founding members of the Doll Dreamers Guild who have supported Dianna Effner over the years are mainly Lana Dobbs, Nelly Valentino, Pat Green, Joyce Mathews, Helen Skinner, Tillie Drake, Gwen Peard, Magali Dawson and of course Geri Uribe. Dianna often confided that she was very touched by the loyalty of her members and their doll making skills, as passionate about their work as she was about hers.
"Souvenir Dolls" from Dianna Effner - 12 inches


The Little Darling's birth
In 2008, another important step in Dianna's life is the creation of the Doll Studio, a place where doll lovers can learn some techniques to create dolls but also buy quality dolls and all their accessories.
Little Darling is the name given to this new line of 13 inch vinyl dolls sculpted by Dianna (according to 4 different molds), custom-painted upon customer request and available through Doll Studio. In addition to Magali Dawson, Doll Dreamers Guild veterans Lana Dobbs, Nelly Valentino, Pat Green, Joyce Mathews, Helen Skinner and Geri Uribe lend their painting talent and artistic sensibility to the customization of these fabulous and wonderful dolls.
Very quickly, these Little Darling receive a warm and very complimentary welcome from collectors in America. But this success will very quickly go beyond the borders of the USA and it will become in a few months ... international.

Over the years, the Little Darling continue to gain a faithful public and especially a growing number of dedicated and passionate collectors. Knowing that it is a handcrafted and hand painted doll, the waiting time of the Little Darling for the adoption of a doll goes from a few weeks to several months, even one or two years! Everywhere in the world, these small darling dolls do not stop conquering new doll lovers.
Isabelle - First Little Darling painted and dressed by Dianna Effner

In a few decades, Dianna has proven herself to be an artist, a businesswoman, a passionate and above all an advocate of the doll art world. Although she often spends a large part of her days taking care of the Little Darling line, she has never lost her passion and love for porcelain, the fabulous "material" so important for Dianna.

Life takes back its rights
A tragedy hits Dianna hard in October 2014 following the death of Randall, her husband and partner for all these years, at the age of 67. Dianna is very affected by this loss and decides to devote more time to her family, her 3 children and her 12 grandchildren.
Randall Effner's funeral (Sara Effner, Dianna Effner, Ivan David Hobbs and Lela Street Effner)
Fate is still raging for this artist with such a big heart in February 2019. Her eldest son, Ivan David, died tragically at the age of 49, leaving behind him a wife, a daughter, but above all a mother torn and destroyed.

Unfortunately, life did not spare her and Dianna had to wage a final battle against cancer, but the disease would be the strongest and would take her away on Wednesday, October 14, 2020 at the age of 75.
In just over 40 years, Dianna has become one of the best-known, most recognized and most beloved doll creators thanks to her own "vision" of dolls, as well as the thriving business she created to teach and market moulds that she designed to allow others to learn the craft she loved so much.
"Little Lou" from Dianna Effner (11 inches)


Dianna and our shop, a very long love story …

We were literally guided and rocked by the immense talent of this undisputed master during all these years.

How not to associate Dianna to the course of our store in the world of dolls since 2009, and more particularly all these small treasures born from her hands and arrived in our nest! So we tried to establish the chronology of our collaboration with this immense artist but also the very numerous memories that she leaves us.
The starting point : the Little Darling

Alexandra discovered the Little Darling dolls almost from the beginning of their history. This meeting was really a revelation for us, novices in the doll environment. It was thus an obviousness: we wanted to propose them to our customers and to distribute these small wonders on our site.

But it was not at all an easy thing ...

After several unanswered emails, we contacted the Doll Studio in Jamestown by phone to explain our approach. Each time we called, we received an excellent welcome from Geri Uribe who was to discuss our request with Dianna. Time passed and we still hadn't received any answer from Missouri. Until the day we had the chance to speak directly with Dianna. Several phone conversations with her were necessary to convince her to trust our small boutique.

And right away ... the current of sympathy had passed between us.

And it was a real pleasure !!!

Our store could finally offer these Little Darling to our customers, a rare privilege granted to only 3 stores in the world.
But, we would soon discover that offering these little treasures on our site was far from being a long quiet river. Our customers would rush on the dolls as soon as we presented them (usually 10 to 14 pieces per arrival) with such fury that our site server literally crashed twice, putting the site out of service. Within minutes, all the dolls were adopted.

Unfortunately, this extraordinary adventure stopped in July 2014 with the decision to stop the distribution of Little Darling via the stores but exclusively via the Doll Studio which was experiencing huge delays in the manufacture of dolls booked through it.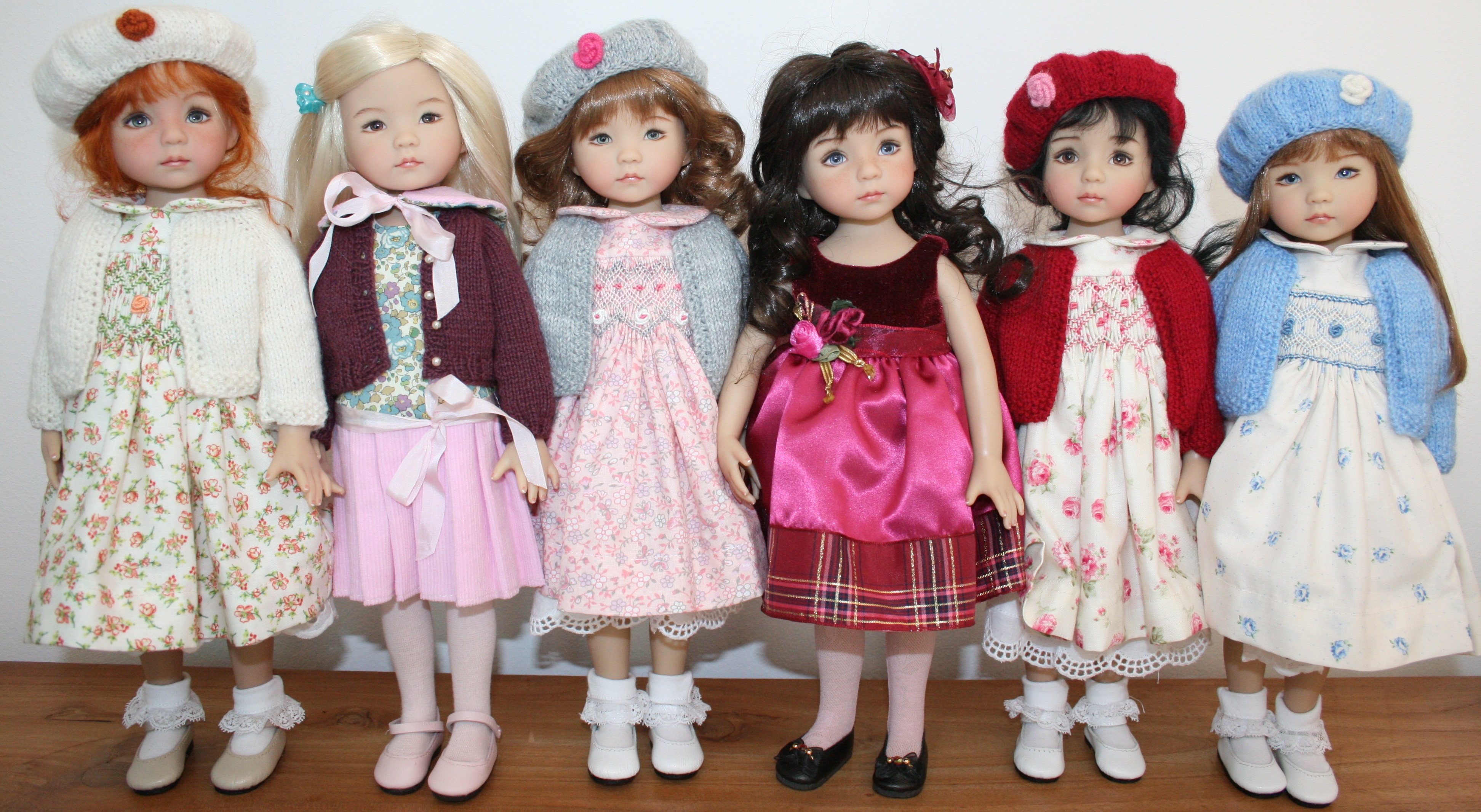 The time of the Heartstring Dolls

Having become passionate about Dianna's creations, we then decided to offer Heartstring dolls. They were 8 inches dolls dressed by the American Joanne Flitton on the basis of a mold once again sculpted by Dianna.

We loved these sweet little treasures and we even made with Joanna 2 exclusive and numbered dolls for our store.

Unfortunately, due to health problems, Jo Flitton decided to stop these creations in 2017, which put an end to this magnificent series of dolls for good.

The Maru & Friends consecration

Thanks to Jo Flitton's intervention, the Maru & Friends dolls have once again lit up our "Effnerian" path with their grace and beauty, always coming from Dianna's imagination and talent.

As early as 2012, after long discussions and negotiations with Maritza Gutierrez (the creator of the Maru dolls), we were the first to introduce these beautiful dolls in Europe where they were absolutely unknown.

Within a few years, the Maru dolls (available in 2 sizes: 13 and 20 inches) have conquered the hearts of a very large number of collectors all over Europe. Our store has the Exclusivity of these Maru dolls for France.

The fabulous Boneka dolls

For more than 30 years, the German company Boneka has been offering leather clothes and shoes for dolls made by Rosemarie Ionker. But the fame of Boneka comes mainly from these fabulous vinyl dolls hand painted in Jakarta, Indonesia according to molds sculpted by Dianna Effner (3 different molds: Monday's Child, Tuesday's Child and Thursday's Child).

Here is the offer of Boneka dolls we have on our shop : just click HERE.

The Rubyred Fashion Friends revelation

Once again, in September 2019, our detective and scout Alexandra discovers 3 new dolls made by Rubyred (whose products we distribute in France since 2014). These 3 ladies of 14,5 inches, which are called Fashion Friends Dolls, were initially intended for the American and Asian market as "high-end play dolls".

Our friends at Rubyred refused to distribute them in Europe via our website. But it was without counting on the strength of persuasion but above all on the tenacity of Alexandra who negotiated like a goddess, without concession and ... all claws out!

So we proudly introduced Bella, Sara and Hanna to our site in October 2019. In just a few months, these young ladies literally revolutionized the doll market and they met a phenomenal success.
Once again, Dianna's presence was palpable as she was the one who sculpted the faces of these little angelic creatures. At the time of writing, our boutique has already developed with the designers of Rubyred 5 exclusive limited and numbered dolls.

We can say loud and clear that this fabulous collaboration between Dianna Effner and Rubyred represents a true alliance of talent (Dianna) and know-how (RubyRed).

Discover the full range of exclusive Fashion Friends dolls, clothes and shoes on our website here.

Farewell Dianna and above all … THANK YOU !

Oh yes, the doll's world is in mourning today and it will unfortunately not be the same at all.

We will never forget you Dianna and your imprint in the hearts of all doll collectors around the world will remain forever.

It is now the angels who will be spoiled by your presence at their side ...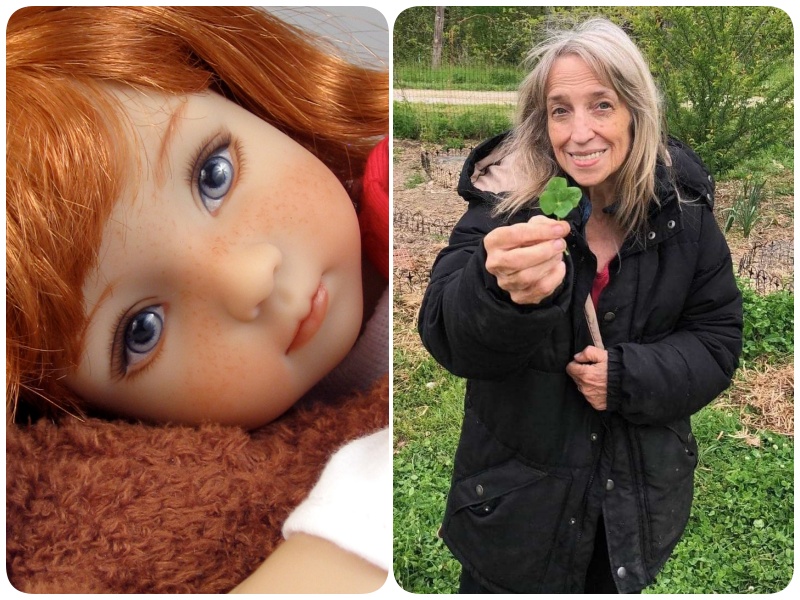 One more small service to ask you

We would like to solicit one small favor from you: to share this tribute (via the buttons below Facebook, Twitter, Email or Pinterest) because we believe that the story and career of the great Dianna Effner deserves a massive sharing to be known and appreciated by all.

With a heavy and sad heart, we thank you for your reading and for your trust.

See you soon,
Alexandra et Emmanuel


Sources for this Tribute: various articles found on the web (Niada, Dolls Magazine, Expressions, Doll Studio, various readings, ...).
WARNING: This article is the exclusive property of "Un Bonheur de Colibri", any total or even partial reproduction is strictly forbidden without our express agreement. In any case, on any authorized copy of all or part of the contents of this article, must appear the mention "Copyright Un Bonheur de Colibri SAS all rights reserved".