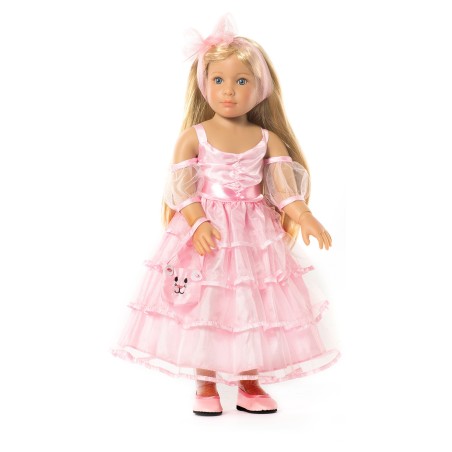  
Poupée Princesse Rose Kidz'n'Cats - Edition 2015
Ce produit est définitivement épuisé !!
By buying this product you can collect up to 11 loyalty points. Your cart will total 11 points that can be converted into a voucher of €2.20.
J'ai l'immense plaisir de vous présenter les 7 nouvelles et magnifiques poupées "Kidz'n'Cats" 2015 de Sonja Hartmann !!
 
Etonnantes, si douces et belles, rayonnantes et si vraies, ces poupées vous accompagneront partout où vous irez et feront partie de votre univers !!
Ces 7 nouvelles poupées à Jouer "Kidz'n'Cats" (Heart & Soul) de Sonja Hartmann viennent encore agrandir cette superbe famille qui comptera à présent 18 poupées
(3 garçons et 15 filles). Quelques améliorations ont été ajoutées :
Ces poupées en Vinyl (sans Phtalate ni teintures azotées) mesurent 46 Cm.
Grâce à leurs 11 articulations (2 aux poignets, 1 au Cou, 2 aux épaules, 2 aux coudes, 2 aux genoux et 2 aux hanches), les Kidz'n'Cats sont capables de se mettre debout, grimper, s'asseoir, s'agenouiller et prendre d'autres positions...
Petite astuce pour garder une chevelure souple et brillante :
Les cheveux devraient être brossés régulièrement avec une petite quantité de crème pour les cheveux...
Des matériaux de qualité ont été choisis et sélectionnés avec le plus grand soin, aussi bien pour les vêtements que pour la Poupée :
Perruque 100% Kanekalon (Fibre Synthétique)
Les Cheveux peuvent être coiffés
Vrais Cils et yeux en Verre Acrylique (incassable)
Les visages sont peints à la main


Notre Poupée Princesse Rose - Moule de Sophie et Lena - Kidz'n'Cats - 46 Cm - 11 Articulations, a une longue chevelure Blonde et les yeux bleus.
Princesse Rose porte une superbe Robe de Bal, en tulle rose avec corsage ajusté (et 4 couches de tulle).
Une étolle blanche en fausse fourrure, des collants et un petit sac à main sur lequel un chat est brodé complètent la tenue.
De ravissantes ballerines roses lui chaussent parfaitement.
En route pour son rendez-vous avec ses nouvelles copines Julika, Jennet, Jodie, Miu, Lauryn, Jolina et Paulette....

Les poupées et tous les accessoires ont été testés rigoureusement selon les Normes de Sécurité Européennes et sont recommandées pour des enfants à partir de 5/6 Ans. Elles sont livrées dans une très jolie boite de présentation.
Si vous désirez offrir un jouet à cette jolie poupée, vous pouvez lui choisir un chat (avec vêtements) ou une poupée Kidz'n'Cats Mini de 21 Cm !!

Dans l'attente de recevoir une photo de la poupée seule, Princesse Rose est présentée avec Paulette et Finchen (sur la photo) mais elle viendra seule bien sûr !
Data sheet
doll type

To play (CE)

Doll Size

46cm

Recommended age

From 6 years old

Material of the doll

Vinyl

gender of the doll

Daughter

Ethnic group

White skin

Type of body

100% Vinyl

Number of Joints

11

Eye colour

Blue

Eye Type

Fixed

Hair color

Blond

Hair Length

Long

Hair Type

Wig