We have chosen to entrust the management of our parcel deliveries to Colissimo (French Postal Service) and Chronopost who offer you solutions adapted to your budget and your desires.
Warning: we have temporarily suspended shipments by Chronopost on our site, following problems in the management of packages causing delays in deliveries.

Here are our detailed shipping costs according to your location.
1) Our shipping costs for France

Our store tries to lighten the shipping costs as much as possible by taking care of a part of them.
They vary according to the global value of your basket:
Delivery times in France are 2 days (Colissimo).

 
2) Our shipping costs to Europe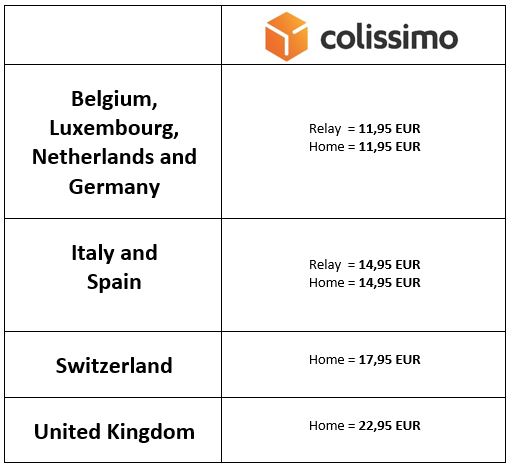 3) Our shipping costs for the rest of the World

Please contact us by email in order to discuss this matter, so we could make you the BEST OFFER for the shipping costs.
(*) Due to the introduction of the Volumetric Weight by Colissimo, the price of your shipment depends on the weight of your package but also on its volumetric weight (weight calculated on the basis of the actual volume of your package). This is valid for all destinations "by air".
We will calculate for you the exact price of your shipment and we will even suggest solutions to reduce the delivery costs.
4) The preparation of your package
Any order placed on our site is generally shipped within 24 to 48 hours.
We take particular care in packing your packages (protection and packaging adapted to your purchase). 
5) The eventual return of your package
If the ordered article does not suit you or if you change your mind, you can return it to us, at your own expense, at your own risk and in perfect condition within 14 days from the day you communicate your decision to withdraw (see our General Conditions of Sale on this subject).

To exercise your right of retractation, you must notify us of your decision to retract your purchase by means of an unambiguous statement by mail (387, Rue de l'Eglise, 76750 BIERVILLE) or by email (shop@unbonheurdecolibri.be).

For recall and in an obvious way, the articles which would be turned over to us used, soiled, incomplete, damaged or without label will not be taken again nor refunded.