We are so happy to see you again for this new article in our Blog.

The year 2020 will be forever marked by the terrible pandemic of Covid-19 which hit all the continents of our planet. Of course, nothing will ever be the same again and the consequences are dramatic at all levels of our society.

Our doll's world has not been spared by this damned coronavirus either and all our suppliers all over the world have been impacted, from near or far.

All of them? No !

Almost all of them ... because RubyRed, among our loyal partners, managed its business during this health crisis with a masterful hand. In addition to having ensured the manufacture and delivery of its products within the initially planned deadlines, RubyRed succeeded in imposing its Fashion Friends dolls as THE revelation of the year 2020.

What can explain such a success?
Who is behind and how did this fabulous story begin?
And above all, what could we expect of 2021 ?

Let's take a look back at this unprecedented feat and discover how, in just a few months, these magnificent Fashion Friends have become the "trendy" dolls that have turned the heads of doll collectors all around the world.


The origin of Fashion Friends
The concept of Fashion Friends was conceived by Mrs. Ruby Ho, the owner and founder of the RubyRed group.
In early 2019, Ruby Ho met her great-niece Maleah in the United States. Immediately, she is pleasantly surprised at how attentive young girls are to current fashion trends. Indeed, Maleah was frequently browsing fashion magazines and numerous websites with her mom and her friends to discuss, imagine and buy a whole range of things to make herself beautiful by becoming real ... Fashion Friends !
Inspired by this way of doing things of new generations, Ruby had the idea to create a high-quality play doll with the current fashion trends. With the concept on track, it was time to move on to the design of these Fashionista. And there, it was almost obvious for Ruby Ho who did not hesitate to ask the famous Dianna Effner to sculpt this new line of dolls and the designer Melody Young to design the outfits.
Fashion Friends, divine collaboration of 3 players !
Oops, but that is for sure!
Take on one hand an internationally renowned artist (Dianna Effner, who we no longer present), add an Asian artist who knows the world of dolls like the back of her hand (Ruby Ho, who we will present you) and sprinkle it all with an inescapable know-how of more than 40 years in the production of high quality dolls (RubyRed) ... and you get a crunchy, explosive and above all very innovative concept ... Fashion Friends !
But let us come back in more details on these 3 "giants" who are at the origin of the birth of these extraordinary dolls.


Dianna Effner's particular touch
Any doll collector who looks at Fashion Friends dolls for the first time will immediately recognize the singular signature of this immense American artist.
Out of friendship for Ruby Ho, Dianna immediately accepts this project and starts designing the first mold. We will not go back over Dianna's career here and we refer you to our Blog article Dianna Effner's Doll's Life which will explain everything.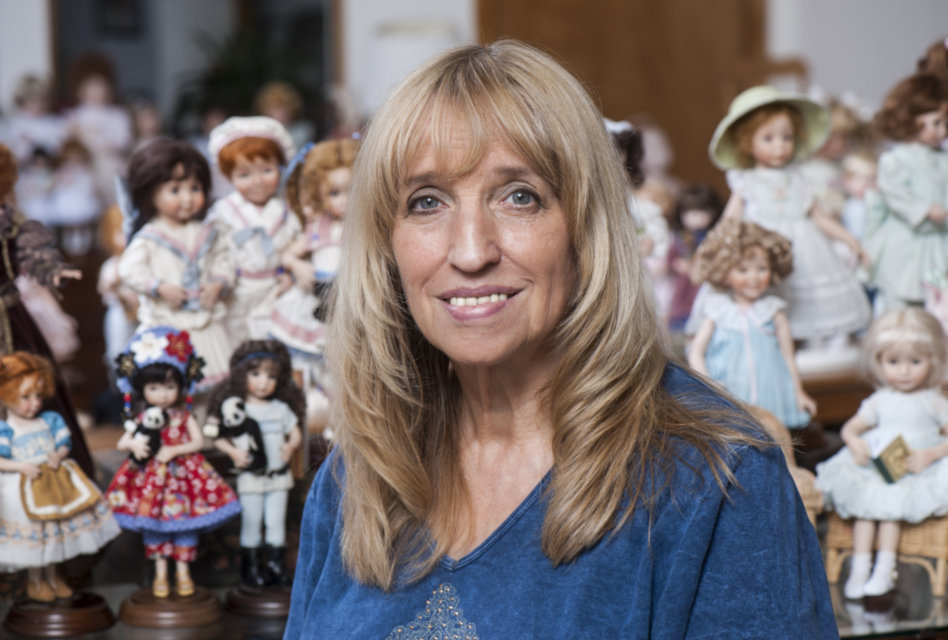 But let's focus today to RubyRed and Mrs Ruby Ho.


RubyRed's Ancestral Know-How
These delicious dolls originate from Hong Kong (a former British colony in southeast China) where they are designed and developed by RubyRed Fashion Friends, a subsidiary of Leannie Global Ltd.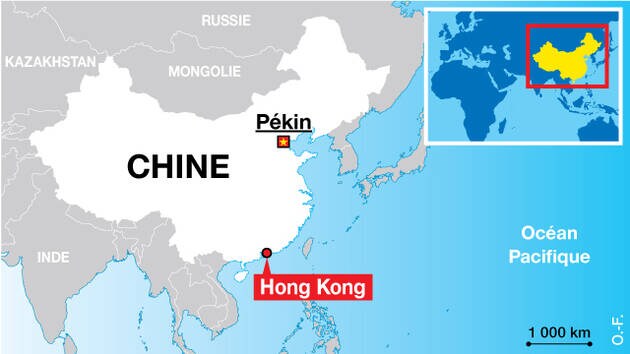 Of course, this company is not for the first time and is not completely unknown in the dolls world.
In 40 years, Leannie Global has worked with some of the most talented doll designers and developers in the world, including Mrs. Dianna Effner, Mrs. Pleasant Rowland (original founder of American Girl), Mrs. Catherine Refabert (creator of Corolle dolls), Mrs. Hildegard Gunzel, Franz & Mariam Götz (founder of Götz Puppen), Mrs. Gale Jarvis (Mrs. Of Madame Alexander Dolls), Mrs. Helen Kish, Mrs. Maggie Iocono, Mr. Jason Wu, Mr. John R. Wright ... to name just a few.
Starting in 1981 as a simple maker of wigs for dolls, Leannie Global has become one of the world's leading "suppliers" of dolls, accessories, and miniature toys. Over the years, Leannie Global has been manufacturing high quality dolls with a global service "from head to toe, top to bottom, from wigs to shoes, and almost everything in between, all under one roof". Leannie manufactures dolls, clothing, and accessories for many of the world's leading doll brands anonymously in the background.
But this immense success is based on the work and the personality of a little piece of woman ... Mrs. Ruby Ho, creator of this empire of the doll.
But who exactly is Ruby Ho ? Well, that is what we explain right away.


Ruby Ho's infinite love for dolls
Ruby Ho (Ten Ping Ho, her Chinese name) was born in Shanghai, China in 1949 to a relatively well-to-do family, until the civil war tore the country apart and the family found themselves penniless. To earn money, her parents were forced to leave Shanghai for Hong Kong when Ruby was 5 years old and Ruby has to stay behind to take careof with her two sisters and brother.
The only adult in the family is her elderly grandmother who remains a central influence in Ruby's entire life. In fact, Ruby has total admiration for her and says that everything she has learned in business and life has been mentored by her grandmother.
As a child, Ruby always envied her friends at school because they all had lots of toys ... but not her. Ruby's dream has always been to have a doll to talk to, as a best friend who would share her sadness. There was a famous department store in Shanghai, the Wing On Department store, which had a beautiful doll called Mui Mui displayed in its display window. Ruby would spend a lot of time on her way to school in front of the store windows watching Mui Mui while imagining talking to her.
In 1964, at the tender age of 15, Ruby was forced to leave to join her parents in Hong Kong in order to earn more money to help support her large family of 7 young siblings. Unfortunately, at the time, child labor was quite common, even in Hong Kong. Ruby was hired in a wig factory, a very fashionable product, supported by a huge demand from the United States for their "trendy" lifestyle. Ruby works extremely hard every day trying to make money and her greatest wish is that her siblings can go to school and not to the factory.
Soon Ruby became the most efficient worker in the plant, earning two or three times more than her co-workers, thanks to her merit. She commitments every day to earn "that extra penny" so she can send money to her sister to replace her worn-out backpack or to move to a place a little bigger than their small apartment (where mice and cockroaches were inhouse uninvited occupants). Each new purchase pushes her to work even harder, a bit like adrenaline, to hope for a better life in the future...
Her efficiency at work does not escape her boss who discovers her talent very quickly. He decides to promote her as line manager in the hope of training other colleagues to be as efficient as she is. As time goes by, she takes on more and more responsibility and moves up the ladder. She then took charge of the complete production planning, materials purchasing, logistics and finally the entire plant operations.
Of course, this climb to success is not easy. She gave up spending time with her family because she always thought that the best thing, she could do for herself was to earn that "extra money". In addition, it is not easy for a woman to rise to the executive level at that time and Ruby is the victim of sexist comments, harassment, jealousy and even lies (by inventing a relationship with the factory boss, the only thing that justifies her meteoric success in the eyes of the jealous). Ruby always ignored all the sarcastic comments and clung to her willingness to work hard for her family.
In 1979, at the age of 30, Ruby met Paul, a man who would change her life and become her husband. Paul worked in his father's company, which specialized in the trade of fiber for wigs. Ruby approaches him for the first time to get a quote for the factory and that is how this beautiful love story begins.
Soon, they become friends and start the idea of starting their own wig factory. Ruby would bring her experience in production and logistics, while Paul would bring his expertise in fiber sourcing as well as sales and trading.
In 1981, two years later, in Hong Kong, they launched their own wig factory for making wigs and, by extension, doll wigs.
In 1983, Mrs. Rowland Pleasant of American Girl visited Ruby to design a set of wigs for her doll line. Ruby is inspired by this great lady and her passion for dolls, reviving the memory of her childhood department display window doll idol Mui Mui. So, she decides to continue in this way to make not only the wigs but also the complete doll herself.
In 1985, Ruby gave birth to Frederick, her first son. But Ruby hasn't changed her passion for work, and she vows to work even harder to give her son the best possible education.
In 1988, Ruby decided to move the factory to Shenzhen, China to take advantage of lower labor costs. She spends weeks in China building her new factory from scratch. It was also during this time that she gave birth to her second son, Douglas.
Her conviction remains the same: to work hard to earn "that extra penny" so that her children get the best. Unfortunately, she has regretted this decision in recent years, realizing that the lack of childhood time spent with her children was irreplaceable, even if she had hired the best tutors in Hong Kong for them at that time.
In almost 40 years, Ruby has founded a veritable doll empire in China, going through different stages: first making doll wigs, then clothes, shoes, accessories and finally making the whole doll. The path has not been easy and she was lucky enough to meet during this long journey the best and greatest doll designers in the world (Mrs. Dianna Effner, Mrs. Helen Kish, Mrs. Catherine Refabert, Mrs. Pleasant Rowland, Mrs. Hildegard Gunzel, Mrs. Maggie Iocono... ) who have all contributed to forge her excellence in doll production today.
In 2008, now that the factory is autonomous and is starting to function very well, Ruby's children went to university. Ruby takes a step back to think about what she wants to do with her life. She realizes that one of her biggest dreams has never come true and it becomes obvious: to design "her" line of dolls under her own brand. And so, in 2008, at the age of 59, RubyRedGalleria was born and many doll series were created: Strawberina dolls, Lia, Senson doll but especially the Ten Ping dolls (whose stories are taken from Ruby's own life), the Four Kindergartner, Yu Ping, Belinda, Gigi, Bleuette, Girls of the Orient, TangHulu, Honey-B and many others.
                                                                                     Mrs Ruby Ho (Ten Ping Ho)



Fashion Friends Concept
During the development of this new range of dolls, Ruby Ho emphasizes 3 main and fundamental values in her eyes: play, quality and trend. Let us discover this in details.


Play
These dolls have beautiful hair that is easy to style and style. Unlike many play dolls on the market, Fashion Friends' hair comes from an innovative technology of manufacturing the wig caps, which allows for lifelike thicker more manageable hair. This thicker hair prevented tangling and makes subsequent styling/restyling easier and doable. In addition, this technology also offers a greater choice of colors.
The Fashion Friends also have 9 joints (head, arms, legs, knees and elbows) allowing for better stability and a multitude of possible poses for the doll.
Quality
RubyRed pays a lot of attention to the quality of its products thanks to a production that is still handmade today with a great attention to details. Of course, the dolls are tested to the safety standards CE-EN71 (for Europe) and ASTM-F963 (for the USA). Rubyred's 40 years of know-how in the manufacture of dolls from the greatest designers but also collector's dolls offer an additional guarantee to the pickiest collectors.
All product certification procedures and safety tests are also carried out in-house, always with the same priority: quality!
Trend
Fashion Friends follow the latest fashion trends to offer "trendy" and "current" dolls. The wardrobe of these ladies is also very varied with more than 15 different outfits accompanied by very fashionable accessories. And as Ruby's great-niece would say, we are currently living in the "Show-off and the Image time".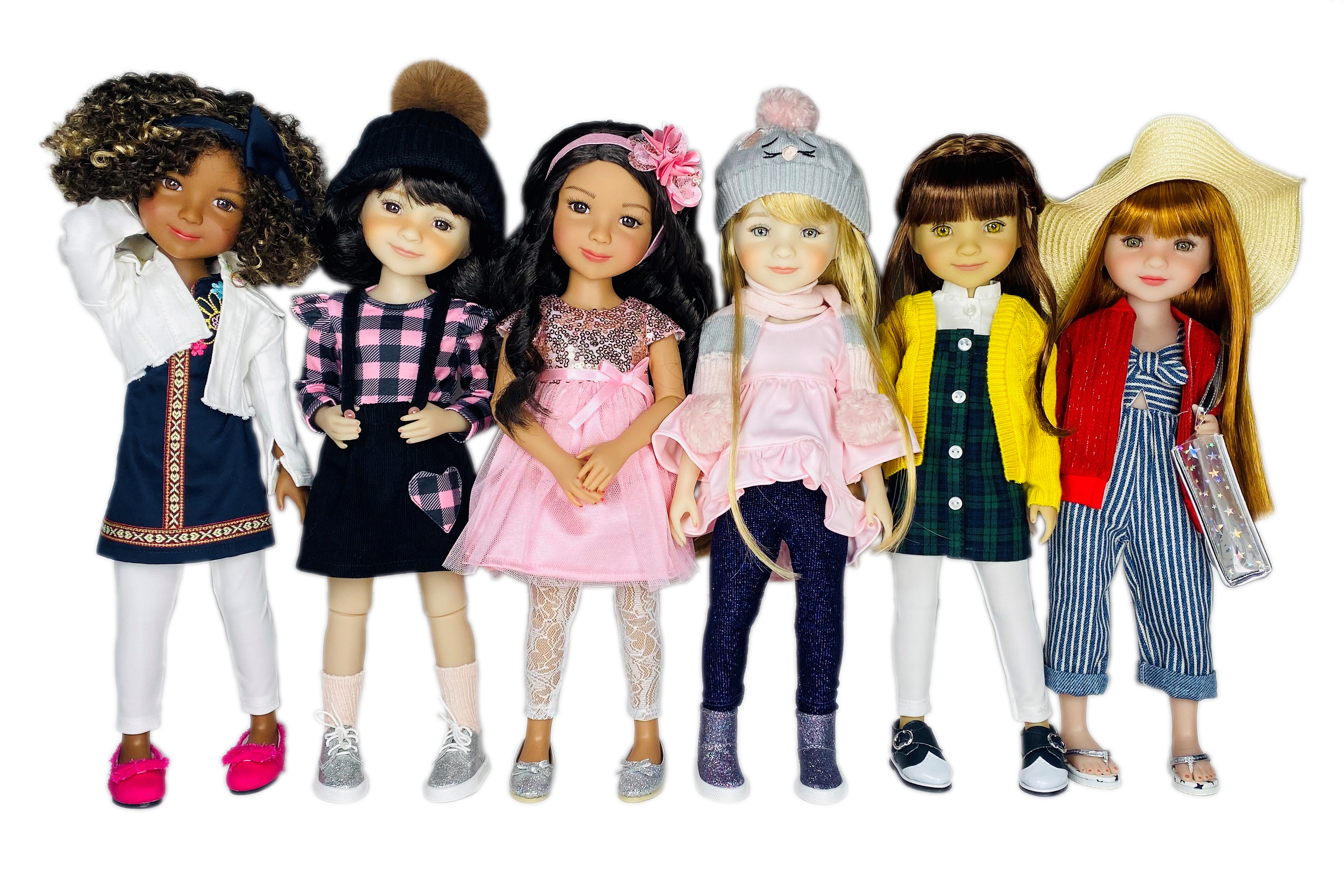 "Classical" Fashion Friends range
RubyRed will officially launch in October 2019 the first 3 dolls of the range, namely Bella, Sara and Hanna.


What happiness for the Colibri team when Alexandra, our "scouting detective buyer" discovers these 3 new friends. Initially intended for the American and Asian market as "top-of-the-range play dolls", and strengthened by our collaboration since 2014 with RubyRed, we manage, after many negotiations, to introduce for the first time, these 3 first dolls in France and Europe.


These 3 dolls are made from a mold (= the face in the doll collector term) sculpted by Dianna Effner, which gives these ladies this soft and candid side. It is the same mold that is used for Bella, Sara and Hanna.
Let's discover them now in a little more detail.

The morphology of these beautiful ladies
In order to be able to prepare in advance a small wardrobe for your favorite doll, here is the detail of the morphology of Fashion Friends (measures in inches and centimeters):

Dream Big ... BELLA
Pretty Bella loves to marvel at all the beauty that surrounds her, she believes in the possibility of reaching for the stars and following her heart. When she graduates, she would like to go to London (at the Fashion School) so that she can give advice to young girls on how to dress.
Bella has a matte skin tone, amber-green-gold eyes and long auburn hair.

Let your Light Shine ... SARA
Sara believes in kindness and that by sharing her light, the world can become a better place. Sara is an aspiring "Vet-shionista", which means that she loves fashion and loves animals!
Once she and her friends graduate, Sara will be sure to keep all the animals in her care healthy and above all in style!
Sara has a fair skin tone, blue eyes and long blonde hair.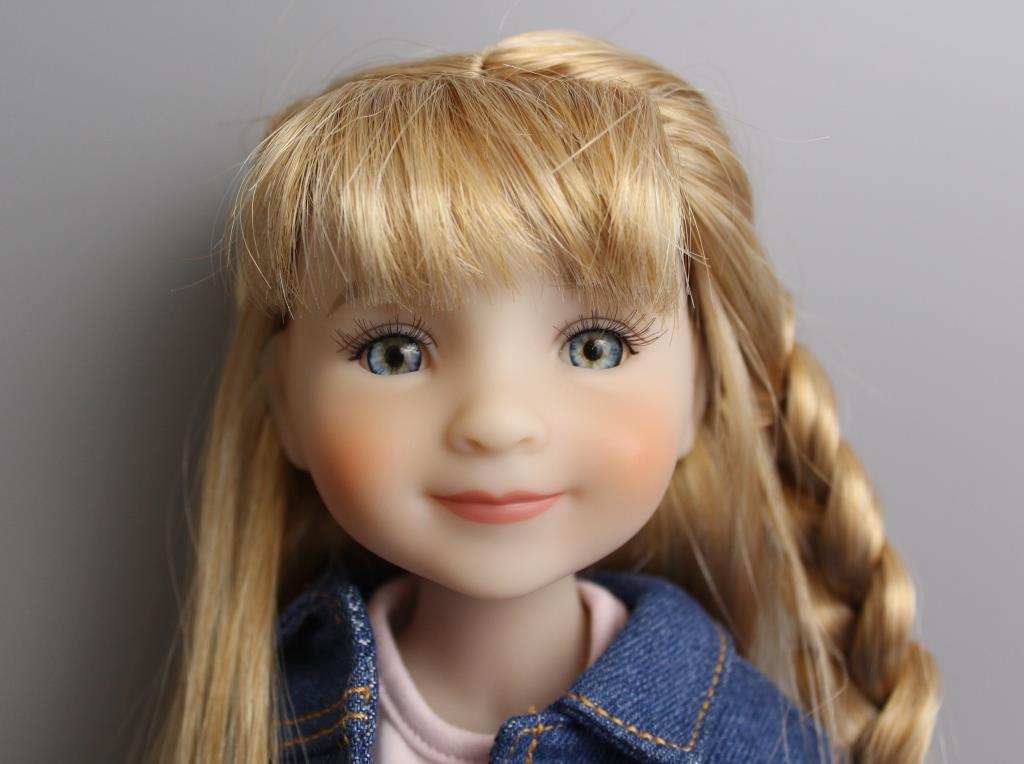 Think happy thoughts ... HANNA
Hanna loves dancing. She believes in unicorns, rainbows and world peace.
When she dances with her friends, in a positive attitude, she believes that anything is possible!
Hanna has a fair skin tone, brown eyes and black hair squared.
But we can already hear you asking us: how can these dolls be different when they have the same face?
Of course, even if the mold of these 3 dolls is identical, RubyRed will play on different criteria to customize them even more:
the color of the vinyl, determining the skin color. Bella has a "matt" skin while Sara and Hanna have a white skin.
the color of the eyes
the style of the hairstyle
the hair color
Facial makeup, shape of eyebrows and eyelashes
For information, Fashion Friends' hair is wigs glued on the dolls' heads (and not implanted directly into the vinyl). The wig size is size 8/9.
Very quickly success arrives among all doll lovers: children, moms, collectors, ... But professionals also recognize the beauty and superiority of these dolls by awarding Sara the "2020 Awards of Excellence - Industry's choice" (prize of excellence awarded by Dolls Magazine).

Be confident ... KAYLA
At the beginning of 2020, Rubyred surprises us with the introduction of a new doll: Kayla.
Kayla always wants to aim for the highest, and to do her best...
From soccer to tennis to gymnastics, she does everything with ferocity and style, always aiming for the gold medal. Once she graduates, she wants to build a fashion empire.
Kayla has brown eyes and long curly brown hair.
Kayla's special feature is the introduction of a brand-new mold sculpted by Ruby Ho, as well as a slightly darker skin color than Bella's.
The good news continues to flow from Hong-Kong and it is the turn of Stella and Maya to present their pretty face to collectors who have become addicted to these beautiful dolls.
Rock Star ... STELLA
Stella believes in entertaining friends and family with her electric personality and sense of humor. She believes that she is destined to be a star and wants to use her imagination and creativity to bring her own style of music to the world.
When she graduates with her friends, she wants to enter a singing contest because she knows it is her destiny to win!
Stella has the Dianna Effner mold, a fair skin tone, green eyes and long red hair.
Always be Kind ... MAYA
Maya believes in magical moments with lots of glitter!
She is authentic and kind. She is always up to date with the latest trends, and most of the time, she creates her own! After graduating with her friends, she wants to host a fashion blog that reflects her style....
Maya has brown eyes, beautiful curly brown hair (with a few lighter highlights) and a darker skin color. Like Kayla, she is made from the mold sculpted by Ruby Ho.
It will be necessary to wait until 2021 for a seventh doll to join the already well-stocked range of Fashion Friends: Lila.
I believe I can fly - LILA
Lila believes in her dreams and above all that the future will be bright on an artistic level. Lila loves ballet, reading and painting. She considers herself a serious artist and uses her imagination and skills to take the stage.
When she graduates with her friends, she hopes to continue her studies abroad and one day become a prima ballerina.
Lila has brown eyes, fair skin and long black hair. But the novelty comes from the brand-new mold that Ruby Ho offers us for this pretty Lila with a makeup a little more pressed at the lips level.
The "Classic" range is therefore complete (at the time of writing these lines of course) and includes a nice family of 7 dolls:
Of course, as RubyRed's exclusive partner for France, our store offers you the whole range of Fashion Friends dolls, as well as their outfits and accessories.
But the story of Fashion Friends does not stop there ...
Christmas Special Edition "Fashion Friends"
To celebrate Christmas 2020, dear to all the inhabitants of our planet, RubyRed's development teams have created 4 limited edition dolls that are very typical and festive. These dolls were very quickly sold out.


Fashion Friends in "Geographic Limited Edition"
In addition to the classic collection of the 7 dolls mentioned above, our friends at RubyRed have developed the idea of offering their customers and collectors around the world new dolls in "Limited Edition" and reserved for certain territories: Europe, Russia or the United States.
European Limited Editions
Here is a presentation of the dolls introduced in 2020 and 2021 for Europe in limited quantity (150 copies). All these dolls have met a huge success and they have all been sold.

Charlotte


Princess Charlotte and Prince George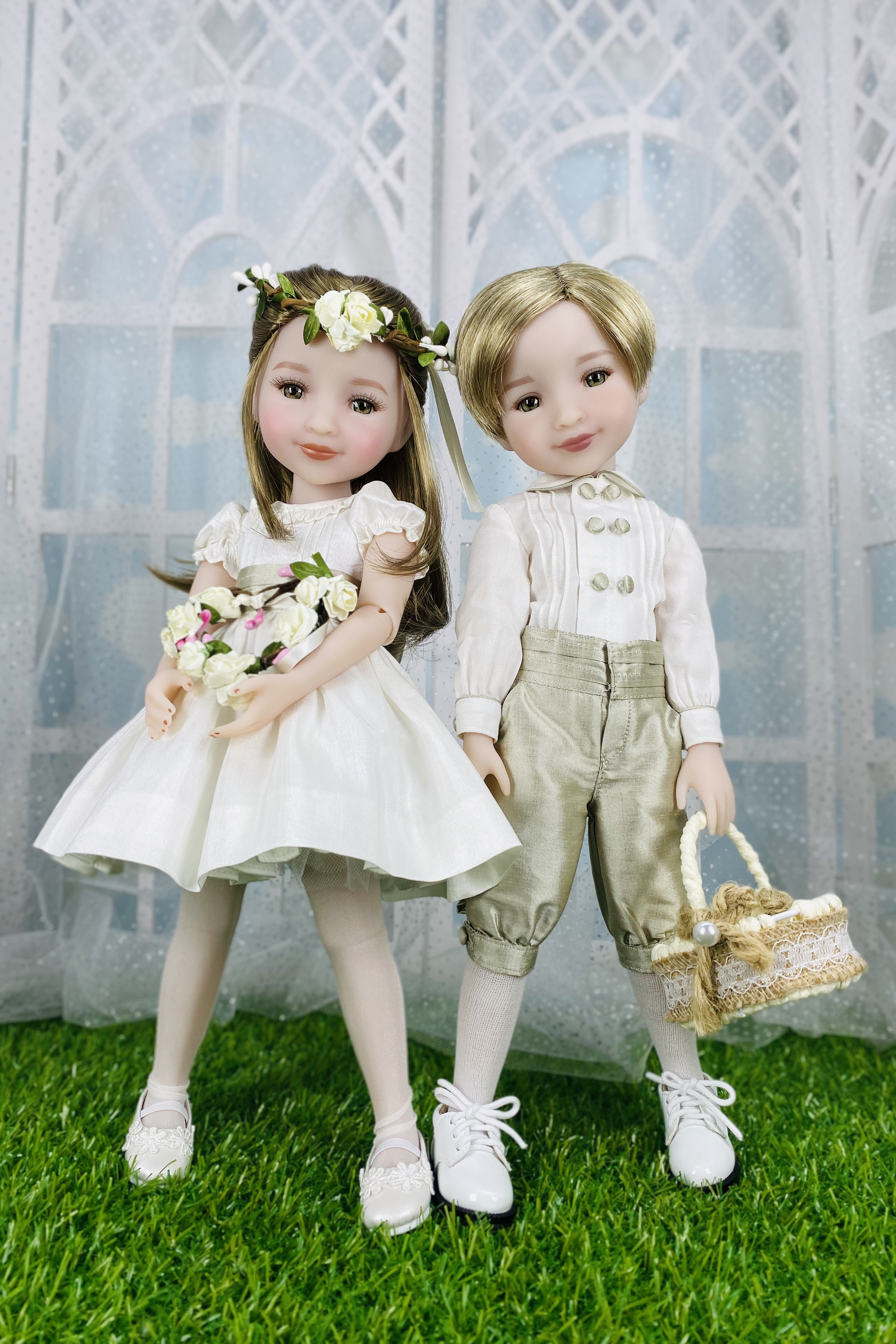 Eira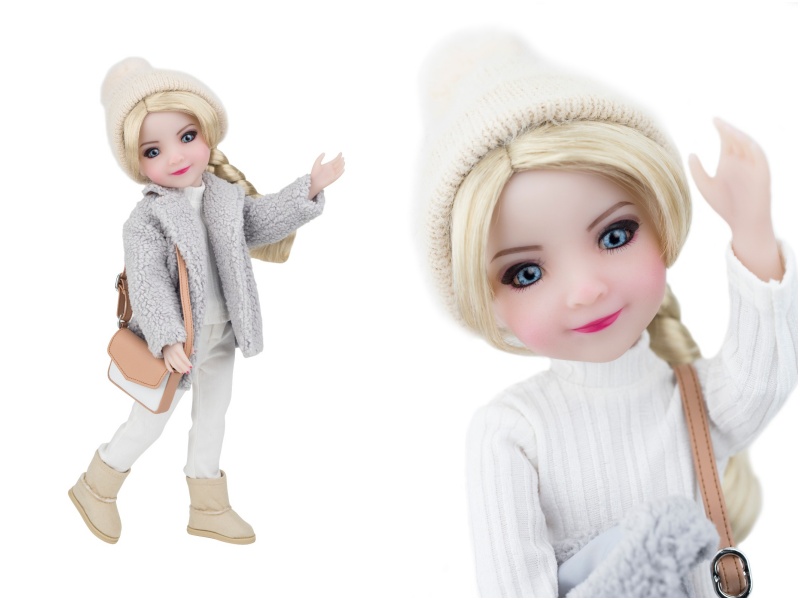 Lucile
American Limited Edition
Baby Blue Rozen
Perihelia


Sara Toy Soldier


Special Edition developed by RubyRed for FAO Schwarz in New-York, a toy store where the red soldier is the unmistakable effigy.
Darla


Daisy
Great novelty of this month of February 2021!
Rubyred announces the launch of a new Limited doll for the USA (in 175 pieces): Daisy.
It is a brand-new mold sculpted by Dianna Effner (the second one).
This doll was presented and sold out in less than 48 hours.
Fernanda
Limited Edition 200 pieces. March 2021
Limited Edition for Russia
Valentina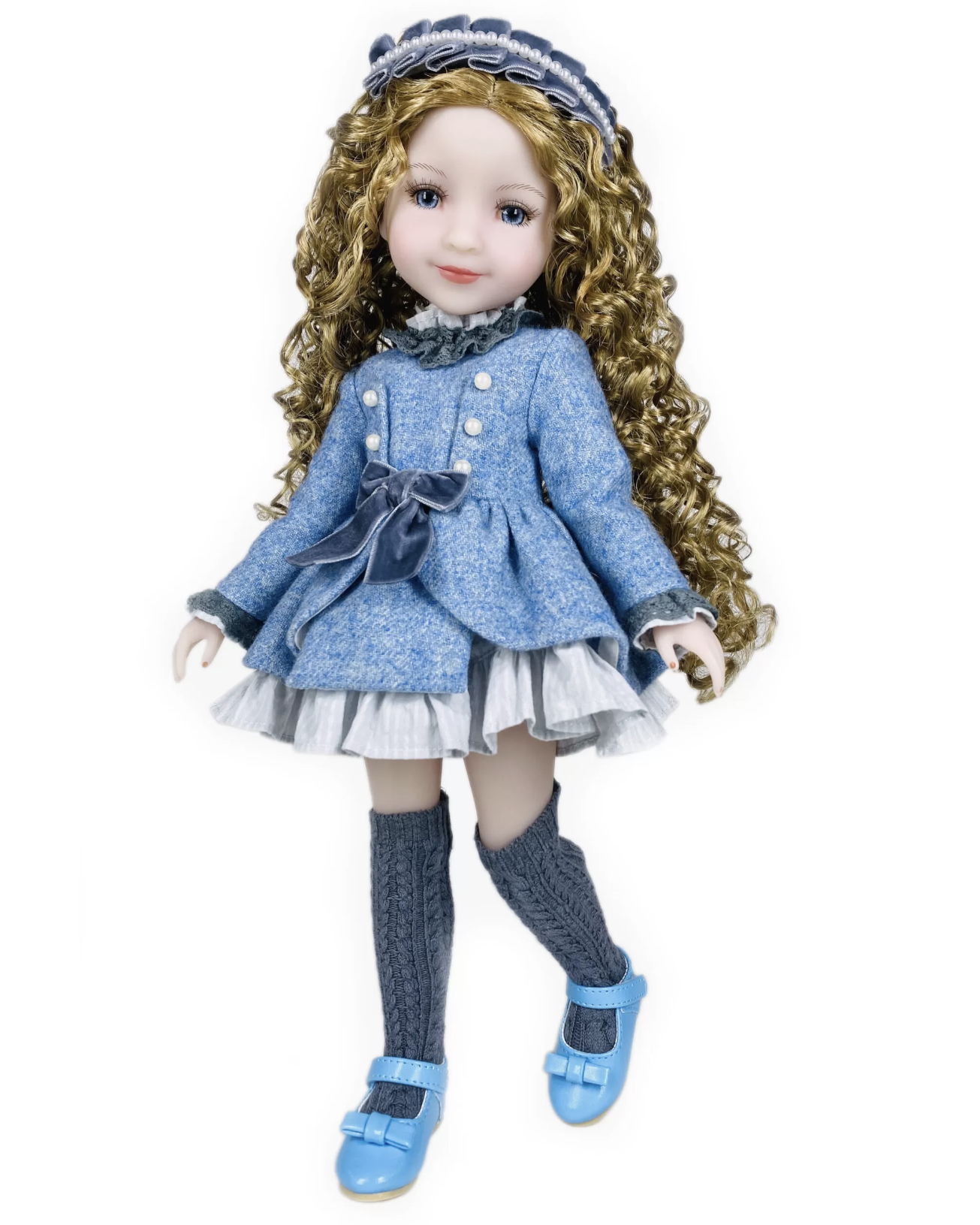 Special Edition Tribute to Dianna Effner
Tribute to Diana


A few words about this Special Edition of 50 dolls based on a photo of Dianna Effner, then aged 9, during a wedding ceremony. Ruby Ho and the RubyRed team wanted to pay tribute in their own way to this great artist who had just left us in October 2020.
The doll was sold at $200 in the United States (in less than 20 minutes after it was put online) and all the sales ($10,000) were donated by Rubyred to the UFDC (the United Federation of Doll Clubs in the USA), and this, at the request of Dianna's two daughters. This magnificent donation will allow this federation to support even more all doll lovers in memory of the exceptional work accomplished in more than 40 years.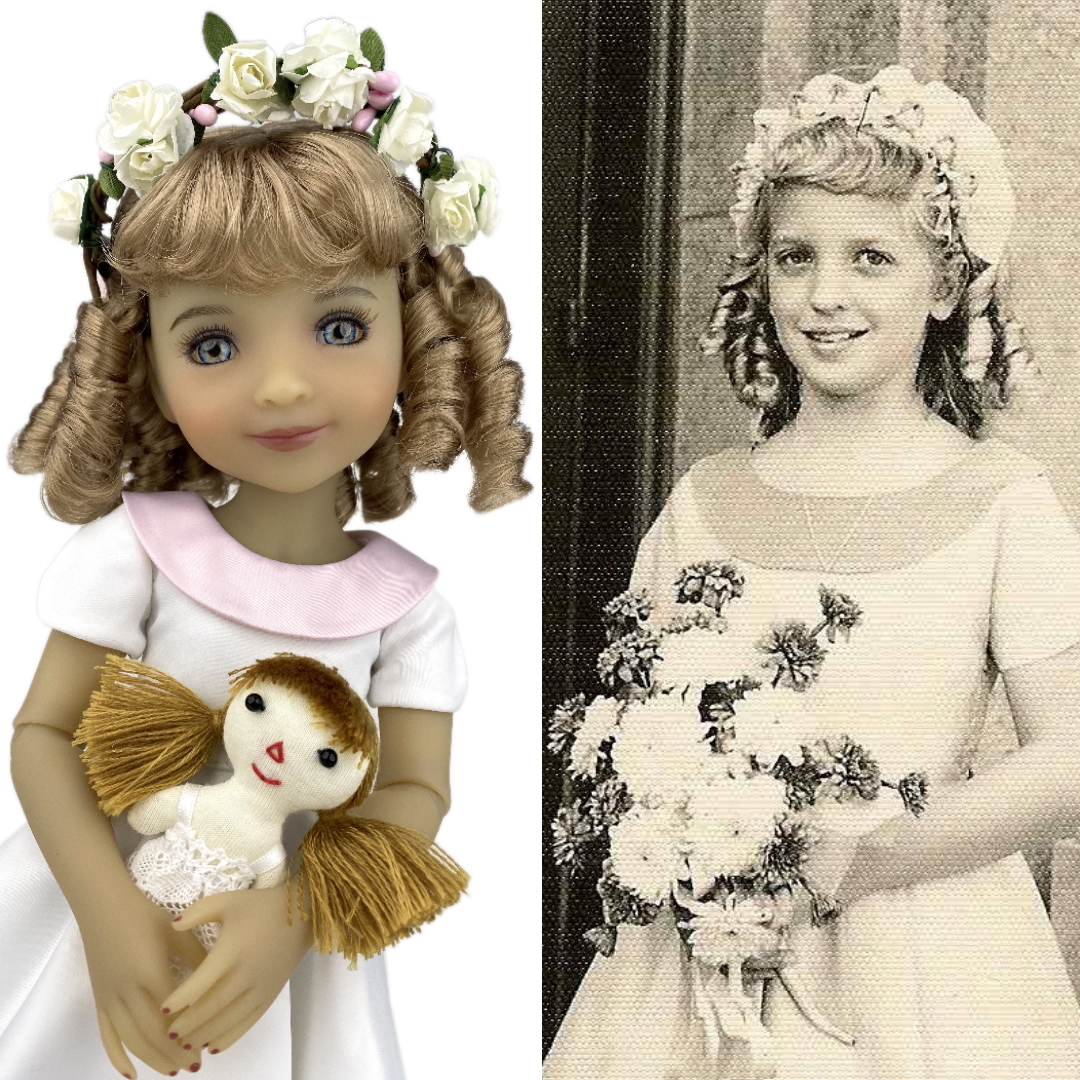 Exclusive dolls for "Un Bonheur de Colibri" in France
For those who know us or for others who are starting to do so, we do not like to be like others! We love original creations, limited and numbered editions, in short, all those crazy projects made to measure for our store.
So, we decided to propose to our customers, our doll lovers and all the lovers of pretty things, Fashion Friends dolls entirely relooked and personalized by us. Alexandra oversees designing all the exclusive projects, from the choice of the mold, the eye and hair color to the outfit and accessories.
The collaboration is then done hand in hand with Rubyred's teams, designers, and couturiers, who organize the realization of the realized proofs, thus giving birth to our Exclusive doll. We decided to limit these Editions to 106 numbered copies.
Here is an overview of our 7 Exclusive dolls realized since the beginning of the year 2020.
Bella HummingBird (Bella Colibri) – March 07, 2020

The beautiful Bella in an Exclusive version with blue eyes in a very romantic dress ...
Jade and Capucine – June 22, 2020
A delight for the eyes, this duo so endearing and crunchy!
Capucine was sold in less than a week and we still receive, months later, requests for this young lady.


Lilou and Sasha – August 12, 2020


Sasha and Lilou ... Oh, what a loving couple!
A little nod to our complicity and to this exceptional love that Alexandra and I have been sharing for almost 30 years.
Sasha, the first name of our second son.
Lilou, the favorite name of our eldest son.
The guitar and the violin, the wood and the strings, ... and the sweet music that comes out of it.
Sasha and Lilou ... an evidence!
Emmy and Camille – February 13, 2021


Emmy and Camille! What a duo of personality and pep!
These fabulous dolls have, for the first time at Fashion Friends, removable wigs. Indeed, the Ruby Red company has just developed a new technique which consists in applying a layer of silicone inside the cap of the wig, so that it can be put on and taken off more easily.
In addition, the Emmy doll comes with 2 different wigs for an instant change of look.
These 2 dolls were sold in less than 48 hours (a record!) and we thank our collector customers from all over the world for their trust.
Juliette et Rebecca – April 17, 2021


These 2 new dolls also have, like Emmy and Camille, removable wigs.

Juliette has the brand new Dianna Effner mold (the one used for the Daisy doll in the USA).
The Rebecca doll comes with 2 different wigs (one long and one bobbed).
Siblies, « THE » revelation of 2021
Faced with the huge success of Fashion Friends dolls all over the world, Rubyred does not stop there, far from it!
January 25, 2021 signs the official date of launch of a brand-new range of dolls, smaller than the Fashion Friends .... the Siblies !
Siblies are the sisters and the brother of Fashion Friends, from the top of their 30 centimeters. And as the big dolls, Siblies also have 9 joints (neck, arms, legs, elbows and knees) to multiply tenfold the pleasure to handle them and to pose them.
So, let us go for the presentation of all this little world ...
Bailey, Bella's sister
Bailey is highly creative and loves to do crafts. She likes to make small gifts for her friends and family.
Bailey has turquoise green eyes and long auburn hair.
Sydney, Hanna's sister
Sydney loves to dance, dance, dance ... ! The louder the music is, the more she moves her hips.
Sydney has dark brown eyes and squared black hair.
Kelsey, Kayla's sister
Kelsey loves all sports and loves to go hiking with her family and friends.
She has brown eyes and long black hair with some purple highlights.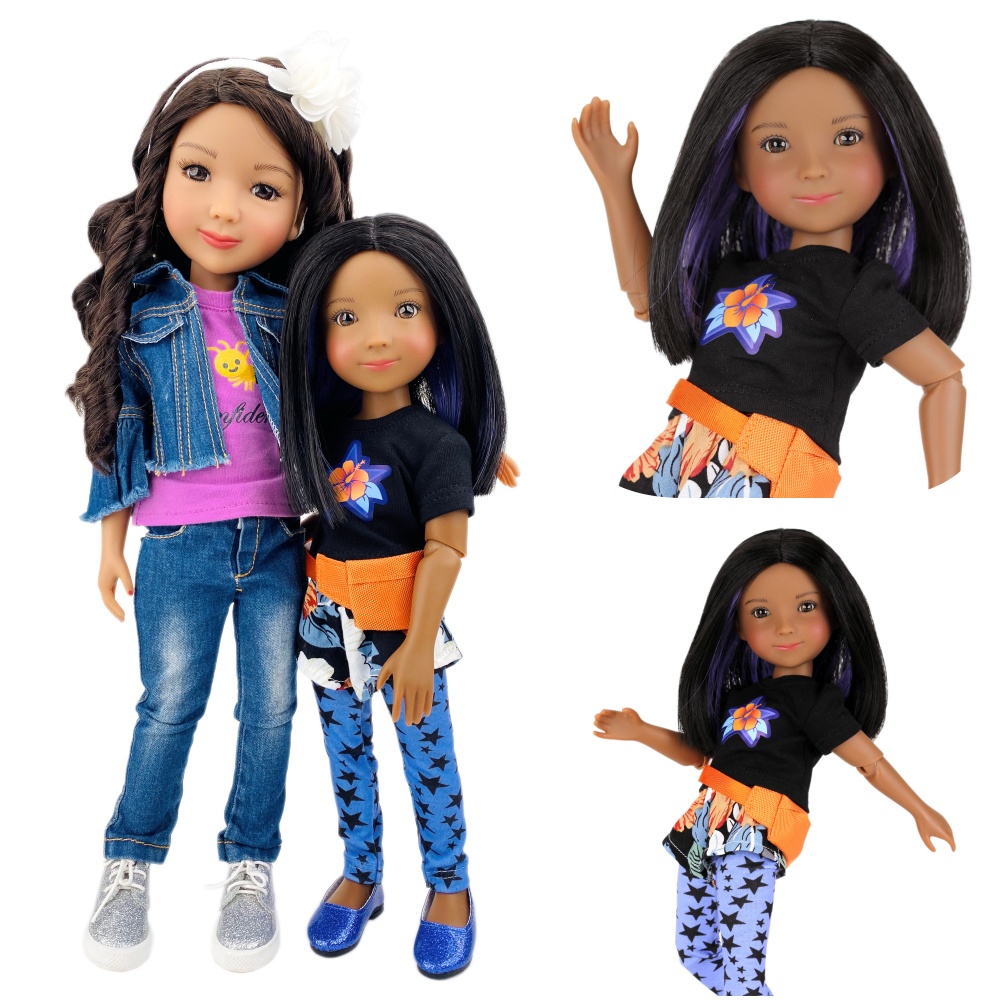 Callie et Rory, Sara's brother and sister
Callie enjoys spending most of her time at the beach with her friends and family. She volunteers at the local animal shelter to care for her beloved pets. Callie has blue eyes and blonde hair with 2 comforters.
Rory loves soccer and baseball. He never stays in place. Rory loves playing outside with her friends and riding her bike around the neighborhood. He has deep blue eyes and short blonde hair.
RubyRed confirms that the vinyl used to make Siblies is the same as the one used for the Fashion Friends. The quality of the wigs and eyes is also identical. On the other hand, contrary to the Fashion Friends dolls, Siblies have lashes painted on the top of the eyes.
However, the outfits and the accessories are a little «simpler» in their realization in order not to impact too much the selling price of these small dolls.

Useful dimensions for seamstresses
At the time of writing, we are waiting for the delivery of our first import of Siblies in France. But we were lucky enough to receive a set of samples from RubyRed, which allowed us to make our own pictures of these adorable and so photogenic little creatures.
So, we can't resist the urge to share these photos with you.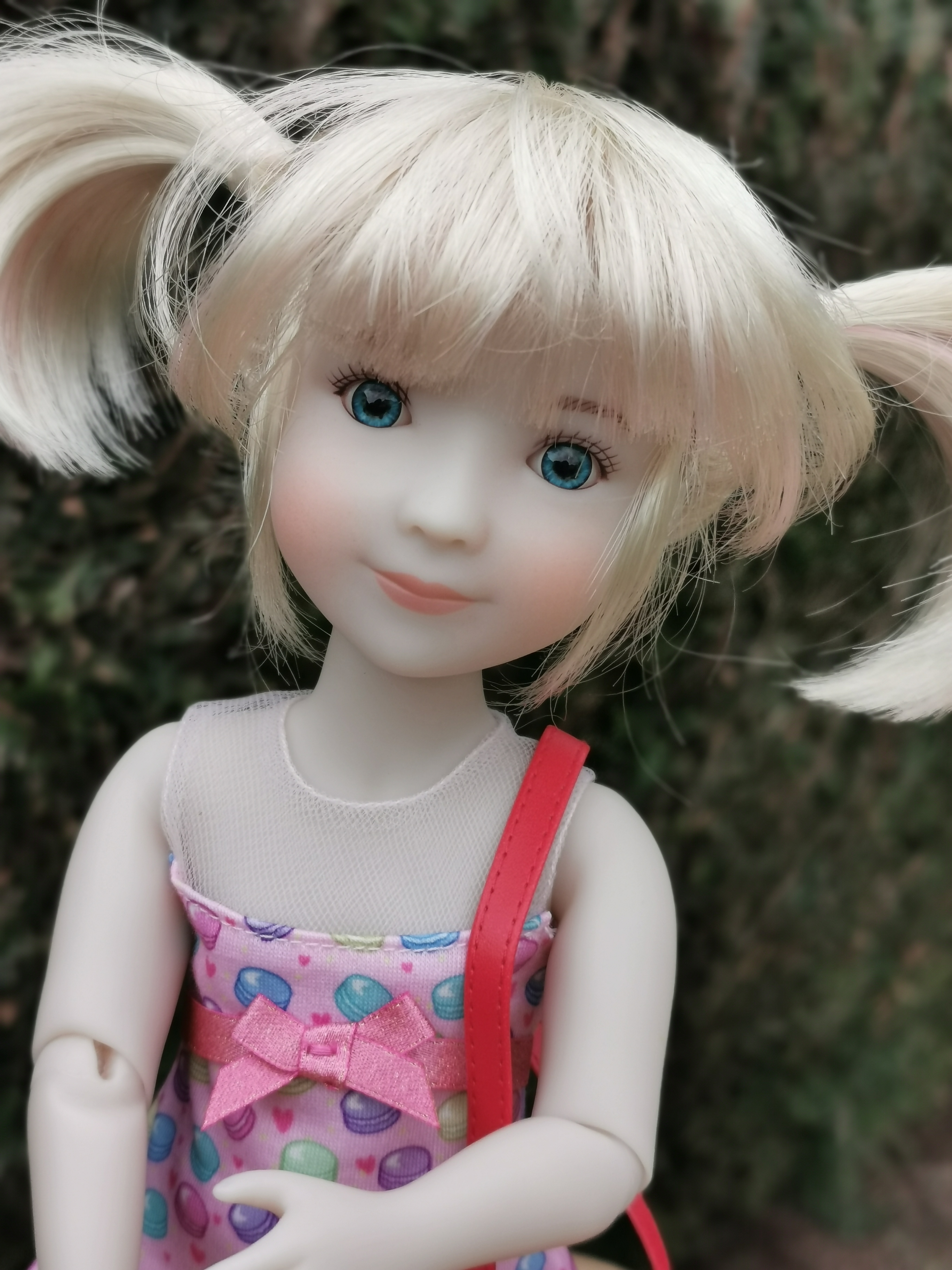 We end this presentation of Siblies with this great animation made by our friends from RubyRed which allows us to discover them even better.
We are shipping worldwide

Of course, our store ships all these little wonders to the 4 corners of the world!
If you live outside Europe, you do not pay French VAT (20%) and we have very affordable shipping solutions to your home.
Do not hesitate to contact us now at the following email address:
We will give you an estimate of your purchases, we will place the order for you and we will send you an invoice for payment by Paypal or credit card. Simple, easy and efficient!
Here ends this fabulous story of Fashion Friends and Siblies.
Of course, this is the end of our article, but it is only the beginning of the adventure because we already know that this year 2021, as well as the many other years to come, will be filled with even more wonders and surprises. But all this we will find out later ...
Take good care of yourself, your loved ones and above all ... enjoy life!
@ very soon,
Dolly yours,
Alexandra and Emmanuel
.
.
Bolg edited on April 22, 2021