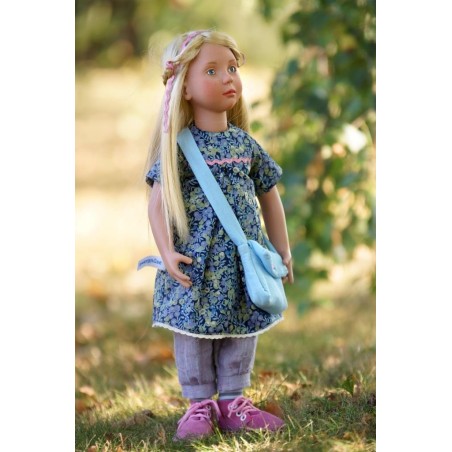  
Aliosha Doll 50 Cm - Exclusive Limited Edition 2016
Limited edition of 20 dolls, created exclusively for the Boutique Un Bonheur de Colibri -
Human hair wig - Mold 2016 (Violet, Azalea...) -
Junior Play Doll 50 Cm -
By buying this product you can collect up to 28 loyalty points. Your cart will total 28 points that can be converted into a voucher of €5.60.
Exclusive for the Un Bonheur de Colibri Boutique!
The name Zwergnase simply comes from a fairy tale...
These play dolls (Junior Dolls) are entirely made in Germany by Nicole Marschollek-Menzner.
Very expressive, intriguing, surprising, these magnificent play dolls will fascinate you with their worried, curious or sad gaze, their pinched or serious little mouth....
Zwergnase Play Dolls are as follows:
Size of 35 Cm (for small) and 50 Cm (for large)
Vinyl Body
5 joints (neck, arms and legs)
Mold, hairstyle, and outfit created by Madame Menzner
painted eyes
Implanted hair (or wigs for some 2016 dolls)
The Aliosha doll (Limited edition of 20 dolls) - Zwergnase - 50 Cm - 5 Joints , has blond hair , blue eyes and
freckles.
It should be noted that this doll is offered with a new 2016 mold , and wears a wig (and not implanted hair).
She wears a beautiful romantic dress (decorated with blue flowers), on a light capris.
A lovely blue shoulder bag completes her outfit.
Beautiful pink lace-up shoes fit her perfectly.
This last doll is the ARTIST DOLL (Artist doll or sample doll) that was used to launch this exclusive series for the store. We had kept her for our private collection but as we cannot keep all the dolls, we offer her for sale. This doll has never been unboxed, handled or displayed. It remained well protected from light and dust. The doll does not have the typical fabric bag at the Zwergnase house.
The dolls and all accessories have been rigorously tested according to European Safety Standards and are recommended for children
from 4 years old .