Once again, we are delighted to be able to chat with you in the columns of this blog.
Today, our Hummingbird is back from a long trip to the heart of Eastern Europe, in Poland to be exact.
A trip in the world of fabrics, organic cotton and especially ... the love of dolls.


Rag dolls and cloth dolls

We wanted to talk to you, for once, about rag dolls. Although our store specializes in vinyl dolls, we have introduced a few rags doll references in our assortment over the past few years.
To be honest with you, rag dolls don't speak to us at all or very little! We can already guess the appalled look of some of you when reading these words. Yes, we feel very little emotion when we see this type of dolls because it is very difficult to make them by simply giving them ... a soul.
Certainly, rag dolls are among the oldest toys, and they are made from simple pieces of fabric. It is therefore a difficult task to give them life, to make them expressive and specially to communicate all those emotions that will capture the hearts of children and plangonophiles.
For years, we were looking for THE rag doll that would make our heartbeat faster, that would capture our eyes and that would make us completely addicted. But we were forced to admit that our search was in vain, only crossing on our way the eternal rag dolls, how to say ... classic!
It is one of our faithful customers (we are really lucky to have customers like you, did we ever tell you?) who guided our Hummingbird by putting it on a new track whose story starts in Poland. We thank her very much because, thanks to her, we found THE rag doll, fabulous and bluffing at the same time.
In short, totally out of the ordinary.
We are very proud and very happy to present you the brand Art'n Doll, a range of wonderful rag dolls, entirely handmade in high quality organic cotton.
So, come on, let's embark on this great journey that will take us to Poland, in the city of Copernicus.

Torun, the city where the adventure begins
This beautiful line of cotton dolls was born from the imagination and hard work of a true doll and child enthusiast, Izabela Kopczynska, a young woman in her forties, born in Torun, Poland.
What, you don't know Torun?



Come on, Colibri gives you a little geography lesson about it. Torun is a city of 200,000 inhabitants located in the center of Poland, more or less 1500 kilometers from Paris. This fabulous city is famous for its numerous houses dating from the Middle Ages, its perfumed gingerbread but also for Nicolas Copernicus who was born there in the 15th century. As a reminder, it is to Copernicus, famous astronomer, and mathematician, that we owe the theory according to which the earth rotates around the sun at the center of the universe.
But let's get back to our sheep or more exactly to our cotton dolls.
Izabela, a lawyer by training, has always developed a taste and an unconditional love for artistic creation. Mother of 2 sons, Izabela manages since 2005, with the help of her husband, her own children's theater, in which she creates shows for children as well as the costumes.



It is true that Izabela has always loved creating for children. She admits to feeling a secret connection with them, anticipating their subtle needs. What else can I tell you about Izabela?
Oh yes, she likes to sleep in (but not often for her liking), she likes to drink her latte in big cups and there is always a mess in her laundry room because she doesn't like to fold the laundry!
The very first doll
In 2013, a seasoned seamstress, Izabela made her first rag doll. According to her, this doll was not successful at all, but someone still wanted to buy it. It was an incredible experience, which encouraged her to continue in this work and in this direction.
As a real little reporter, our Colibri managed to get a picture of this first "masterpiece" of Izabela



The following dolls were intended for family and friends, because Izabela, shy by nature, was ashamed to show her creations, finding them ridiculous and not beautiful enough. One day, Izabela decided to support a fundraiser for a sick girl, offering to make and give a rag doll to each contributor to the medical treatment. Donations and volunteers poured in from all sides, forcing Izabela to put her proposal on hold and spend weeks sewing the promised rag dolls.
Confidence, talent and hard work
Of course, this experience gave Izabela confidence and she started making dozens, even hundreds of dolls. With each batch, she improved. She gleaned techniques from the internet, advice from the right, opinions from the left ... In short, her work became finer and more precise.
Many people started to like her work, first relatives, locals and then orders that flowed in from all over the country. And suddenly, the world of dolls absorbed her completely.
This is how the brand Art'n Doll was born in 2019.



Izabela loves subtle details and although her creations are made from "simple rags", she manages to give them a real soul. Waldorf dolls have always been a true source of inspiration for Izabela, both the simple and the artistic ones. She loves their sweet smiles, their slightly sad looks and that childlike air, with only one desire: to hold them in her arms.
Many of Art'n Doll's customers are adult collectors who are looking for that "something extra" that Izabela has managed to communicate to them through her creations. Each time she starts a new doll, she puts all her energy into it, trying to do the best she can and using the highest quality materials.
But why are these cotton dolls so unique?
To answer this difficult question, we are going to dissect the different parts that make up an Art'n Doll doll because you will discover very quickly that they are really not like other dolls!
A European design and manufacture
At a time when a great majority of products are made in Asia, it seems important to us to highlight the European achievements.
Art'n Doll dolls literally come to life in Poland, where they are designed, sewn, assembled, stuffed and dressed, all with European materials. Izabela makes these dolls in her workshop located at her home, next to a pond.
But this is far from being the only particularity of these ladies.
Beauty and attention to detail


The first thing that blew us away at Art'n Doll was the realism of these faces.
At first glance, it's hard to believe or even imagine that they are rag dolls, with their large, high-quality glass eyes. Each doll is entirely handmade by Izabela and her team. The result is a unique doll made just for you. Of course, this handmade production explains why the dolls delivered may be slightly different from those presented in the picture.
It is all benefit for the collector who will receive HIS rag doll.



But that's not all!
A certified organic cotton
Each doll is made of a GOTS certified organic cotton jersey body.
Certified how? GOTS?
GOTS is the acronym for Global Organic Textile Standard.
It simply means that the fabrics used to make Art'n Doll dolls are certified according to these GOTS standards, namely
   - the fabrics are composed of a minimum of 95% of certified organic fibers
   - the fabrics are created according to environmentally friendly manufacturing and transformation processes, including the use of a minimum of water
   - the use of pesticides, heavy metals, allergens or solvents is totally forbidden in the manufacture of these fabrics



Once the doll's body is finished, it is filled with 100% natural and certified organic recycled fibers, such as corn wool. The members of the doll (arms and legs) are articulated unlike many rag dolls which have the members sewn or attached by elastics. Again, Art'n Doll uses high quality joints, made in Germany and having all the necessary authorizations to make them totally safe, especially for children.



Clothes drawn to four pins
Once our doll has been made, it remains to dress it. Again, the dolls' clothes are made of GOTS certified organic cotton.
Izabela takes a lot of pleasure in imagining and making the clothes of her creations so cute. Small accessories complete and finish the outfit of the doll finally ready.
The clothes are sewn with the greatest care, as is the case with human clothes. The clothes can be removed and washed if necessary, by hand (at low temperature) and even ironed.



A hairstyle of star
There is one last detail, but not the least: the hair.
Art'n Doll dolls have beautiful hair that is either made of mohair or synthetic fibers that imitate human hair to perfection.
Like any synthetic fiber, the hair hates the heat of the hair dryer or straighteners, which are therefore prohibited.
A bluffing result
And here we are, our Art'n Doll is finally finished!
The doll measures 38 cm (yes, it really has 38 cm, not like many rag dolls which are announced for example at 40 cm but which really measure 35!) for a weight of approximately 400g. The doll stands upright in her shoes and can sit down without any problem.
The dolls have a CE certification according to the European standards EN71(1-3) and they are intended for children over 3 years.
And finally, the doll is packed in an ecological box with a window, without using plastic.
Less is more!
Now you understand why we were talking about fabulous dolls that are totally out of the ordinary.
Of course, the budget for such a creation is substantial but this range of dolls is really intended for responsible parents (who are looking for unique toys for their children, privileging the quality rather than the number of toys their child has) and for the most discerning collectors.
The application of the minimalist concept "Less is more" perfectly sums up the spirit of Art'n Doll.
More and more parents, grandparents and collectors are looking for high quality products, made with noble materials, certified ecological, natural and environmentally friendly.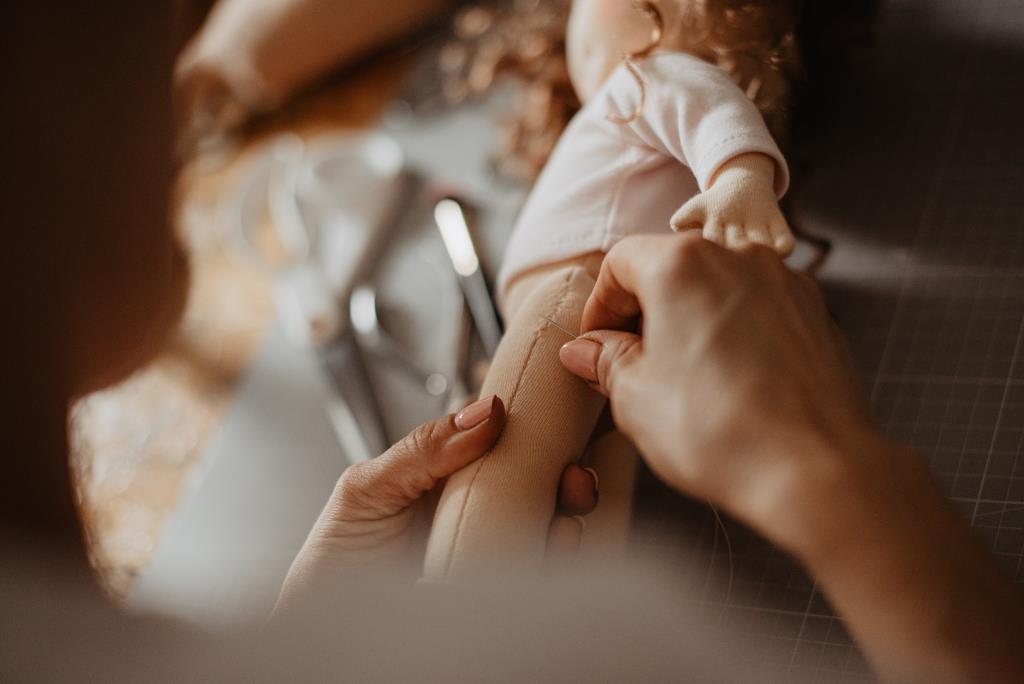 This is what Izabela is offering with its dolls, which are a perfect combination of uniqueness (made entirely by human hands), beautiful design and natural ecology.
And the slogan of Art'n Doll now takes all its meaning: Love at first Hug!
Love at first hug .... everything is said!
We thank you for your attention and we are waiting for your opinions and comments on this new range of dolls.
Take good care of yourself and have a wonderful summer.
See you soon,
Alexandra & Emmanuel