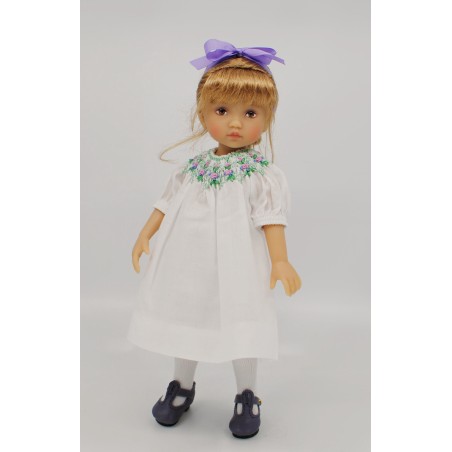  
Marianna doll - Mardi mold - Edition 2022
Limited edition of 2 dolls - brown eyes -
Tuesday's Child (Tuesday Mold) -

By buying this product you can collect up to 32 loyalty points. Your cart will total 32 points that can be converted into a voucher of €6.40.
Boneka Dolls are lovely and dainty little Collectible Vinyl Dolls that are described as follows:
They measure 25 cm
hand painted eyes
Human hair or synthetic mohair
Suitable for amateurs or collectors from 14 years old.


Marianna, Tuesday's Child - in a limited edition of 2 - has a blonde wig (African Braid) and hand-painted brown eyes .


Lovely white dress, adorned with small embroidered flowers
White socks
Blue leather shoes

The very sweet Marianna will be delivered to you in a pretty cotton bag (with her certificate), specially designed for the conservation of the doll and lightly scented with lavender...

A few explanations to help you recognize your Boneka doll:


Boneka dolls have 3 different moulds:
Monday's Child
Tuesday's Child
Thursday's Child
Although collectors may have all three different molds, it is sometimes difficult to determine the differences.

The size of the dress and shoes:

All Boneka dolls wear the same size dress (24cm) and shoes (3.8cm).
The dress length seems a little shorter only for the Monday and Thursday molds.

The size of the wig :

The Monday and Thursday molds have a bigger head and wear a 6-7 inch wig,
While the Tuesday mold wears a 5-6 wig.
The body :
Those of Monday and Thursday have the same body. The Tuesday mold torso is a bit smaller.
The overall size of the Tuesday mold is a little smaller than other dolls due to the smaller head and torso.

Looking at the legs and hips, you'll notice that each doll stands with her weight on different legs.
While the left leg of the Tuesday cast is bent at the knee, the right leg of the Monday cast is bent at the knee.
Monday mold dolls seem to stand more upright.

The Monday cast's left arm is also bent more toward the body, and his hands are a bit larger.

The eyes :

The most visible and obvious difference is the shape of the eyes.
Tuesday's mold eyes are more round,
The Monday mold ones are larger and more oval with a little curve on the top that gives it a nostalgic expression.
The Thursday mold eyes have been painted smaller in the past and are more Asian style.

The nose :

The Tuesday mold has a wider nose than the Monday mold,
The Monday mold has a slightly upturned nose.


What if you're still not sure who this little Boneka is?

You can always take the wig off and take a peek at the back of the head.
The certificate that accompanies your new doll also tells you, next to the name and edition, the mold of the doll



Data sheet
doll type

Collectible

Doll Size

Recommended age

From 14 years old

Material of the doll

Vinyl

gender of the doll

Daughter

Ethnic group

White skin

Type of body

100% Vinyl

Number of Joints

5

Eye colour

Brown

Eye Type

Painted

Hair color

Red

Hair Length

Long

Hair Type

Wig